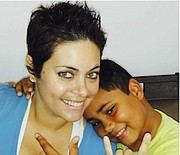 By BIANCA CARTER
Maternity photos are a beautiful way to celebrate and remember an amazing part of your life, and it's becoming the norm, as common in pregnancy as the baby shower.
Maternity photos are about embracing who the mom is, and finding creative and unique ways to capture this important milestone.
Quite a bit of planning is involved when choosing to do a maternity photo shoot. There are many details to work through that go well beyond selecting a photographer. Here are a few things to consider when preparing for your maternity photo shoot:
• The photographer is a really big decision. You want to choose someone that is open to your ideas and theme of the shoot. Pick someone with a photography style that you like, and someone that you can feel comfortable with. You will need to be relaxed and comfortable with your photographer.
• Decide on a look for your photo shoot. It doesn't have to be set in stone, but you do want a few ideas that you'd like to try. For example, do you want black and white, more monotone photos, or do you want to make it fun with lots of colour. You don't have to stick with just one, but it's good to have ideas you want to work from.

• Choose when you want to take photos, and make an appointment around that time. Many women are tired, fatigued, and swollen towards the end, in the last few weeks of pregnancy, so you may want to do it in the later part of your second trimester or the very beginning of your third.
• Look online for inspiration. Pinterest is a great resource for ideas when choosing what look you want to create. You can select a few photos that you like and pick parts of each to create your own.

• Discuss your wardrobe and ideas with your photographer in advance. The lighting is a very important factor in taking photos, so the time of day for your shoot is essential. Wardrobe is also important in creating the image that you hope for, and the photographer will give you guidance on some options that will work best.

• Be yourself. You want your maternity photos to embody your personality, and style that is uniquely yours. You don't want photos that will become memories that last forever to not represent who you are, and the moment that you're at in life. Have fun and let your personality show. The best images are the ones that show your true self.

Love and hugs!
• Bianca Carter is a certified lactation counsellor and founder of Bun in the Oven. For more information, e-mail her at info@babybunintheoven.com. Follow BITO on Facebook at babybunintheoven, and check out the BITO Blog every Monday and Thursday at http://babybunintheoven.com.