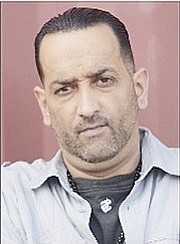 By Inigo 'Naughty' Zenicazelaya
I COULD easily go on for days about LeBron James pulling his usual LeLoser act in yet another NBA Finals. However I much prefer it to play out so I can have more smack to talk. Easy, I promise you, you will get it in very short order.
Until that time comes, I think it's time for another installment of 'On This Day In Sports History.'
It's always fun to look back on which great sporting events occurred on June 14 over the years.
Just from glancing I see the Bulls and the Lakers won multiple championships on this day. Nolan Ryan makes two appearances, throwing heat, all while leaving a trail of strikeouts in his wake.
That's just the tip of the iceberg!
Go ahead, see for yourself, then sign your kid up. We shall chat more?
On This Day In Sports History
1880: 14th Belmont Stakes: L Hughes aboard Grenada wins in 2min 47sec
1913: 27th US Women's National Tennis Championship: Mary Browne beats Dorothy Green 6-2, 7-5
1922: 5th PGA Championship: Gene Sarazen wins at Oakmont
1924: Test Cricket debuts of England's Herbert Sutcliffe and Maurice Tate v South Africa
1926: 31st Men's French Tennis Championships: Henri Cochet beats Rene Lacoste 6-2, 6-4, 6-3
1926: 31st Women's French Tennis Championships: Suzanne Lenglen beats Mary Kendall Browne 6-1, 6-0
1933: Lou Gehrig and Joe McCarthy thrown out of game. McCarthy suspended for three games but Gehrig isn't, so he continues his streak at 1,249 games
1938: Don Bradman scores 144 not out to save the first Test against England at Trent Bridge
1952: 52nd US Golf Open: Julius Boros shoots 281 at Northwood Club, Dallas, to win his first major
1952: Boston Brave Warren Spahn strikes out 18 Cubs in 15 innings
1952: Jim Peters runs world record marathon in 2hr 20min 42.2sec
1952: Braves Warren Spahn ties NL record of Jim Whitney with 18 strikeouts against the Cubs in 15-inning, 3-1 loss
1958: 58th US Golf Open: Tommy Bolt shoots 283 to win at Southern Hills,Tulsa
1959: Beverly Hanson wins LPGA American Women's Golf Open
1963: NY Met Duke Snider hits his 400th home run
1964: Clifford Ann Creed wins LPGA Lady Carling Golf Open
1965: Cincinnati Red Jim Maloney no-hits NY Mets but loses in 11, 1-0
1966: Miami beat St Petersburg (Florida State League) 4-3 in 29 innings - the longest uninterrupted game in organised baseball
1969: The Oakland A's Reggie Jackson has 10 RBI's as the A's beat the Red Sox 21-7
1974: California Angels pitcher Nolan Ryan strikes out 12 Red Sox in 19 innings.
1976: 75th Men's French Open: Adriano Panatta beats Harold Solomon 6-1, 6-4, 4-6, 7-6
1976: 75th Women's French Open: Sue Barker beats Renata Tomanova 6-2, 0-6, 6-2
1981: Donna Caponi Young wins 27th LPGA Championship
1985: Earl Weaver comes out of retirement to manage the Baltimore Orioles
1985: 41st NBA Championship: LA Lakers beat Boston Celtics, 4-2
1987: Colleen Walker wins LPGA Mayflower Golf Classic
1989: Nolan Ryan becomes only the second pitcher to defeat all 26 teams
1990: 44th NBA Championship: Detroit Pistons beat Portland Trailblazers, 4-1
1992: 46th NBA Championship: Chicago Bulls beat Portland Trailblazers, 4-2
1992: Anne-Marie Palli wins ShopRite LPGA Golf Classic
1994: Stanley Cup: NY Rangers beat Vancouver Canucks, 4 games to 3
1995: 49th NBA Championship: Houston Rockets sweep Orlando Magic in four games.
1998: 52nd NBA Championship: Chicago Bulls beat Utah Jazz, 4-2
2000: Greg Maddux makes his 387th career put out, breaking the record previously held by Jack Morris
2005: Asafa Powell, of Jamaica, sets a new men's 100m world record of 9.77sec at the Athens Olympic Stadium
2007: 61st NBA Championship: San Antonio Spurs beat Cleveland Cavaliers, 4-0
2009: 63rd NBA Championship: Los Angeles Lakers beat Orlando Magic, 4-1
2009: 55th LPGA Championship won by Anna Nordqvist
Until next week, be bold and write your name in the record books.
• Naughty presents 'Mischief and Mayhem in da AM' from 6am to 10am, Monday to Friday and 'The Press Box' sports talk show on Sunday from 10am to 1pm, on KISS FM 96.1. Comments and questions to naughty@tribunemedia.net