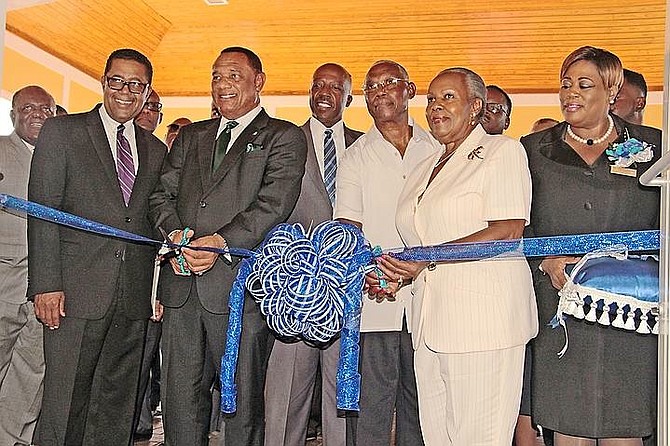 By RASHAD ROLLE
Tribune Staff Reporter
rrolle@tribunemedia.net
MONDAY'S opening of the Child and Adolescent and Robert Smith Complex at the Sandilands Rehabilitation Centre was overshadowed by the sketchy and questionable management of the project by successive administrations, Democratic National Alliance Leader Branville McCartney said yesterday.
The state-of-the-art, 35,000 square foot facility was commissioned by Prime Minister Perry Christie on Monday, ten years after work began on it.
Its opening came four years after Health Minister Dr Perry Gomez said the facility would open in a "matter of weeks".
Officials have not said what was the overall cost of constructing and outfitting the facility or why it took so long to open it.
National Insurance Minister Shane Gibson did not respond to The Tribune's questions about these matters when asked by messaging services yesterday and Monday.
The contractors for the facility at different times during its 10-year history were Edward Penn, a well-known PLP supporter, and Floyd Wilmott, a well-known FNM supporter.
"I could guarantee that that building, the cost far exceeds its value because of the change of persons involved and the bidding process was very, very suspect," Mr McCartney said when contacted yesterday.
"At the end of the day it's a prime example of those two parties being two sides of the same coin, showing lack of transparency and accountability and ensuring their cronies get all of the bread, all to the detriment of the Bahamian people. They used the building as a moneybag. When the PLP was in, they did it and when the FNM was in, they did it."
Although the opening of the facility - which will provide numerous services to children and adolescents with mental and behavioural problems - should be "celebrated," Mr McCartney said, the project has instead been overshadowed by what it represents about the actions of the two major political parties.
In his speech during Monday's event, Shane Gibson referred to the controversy surrounding the facility without divulging specifics.
"The facility, the Robert Smith Child and Adolescent Complex and Special Education Unit, had its fair share of challenges and controversy," he said. "Regrettably, this adversely impacted timely completion.
"…I am told that collaboration was not always easy, given changes in design and personnel over the life span of the project, and the increasingly evolving scope due to the project spanning so many years. However, today we are here to celebrate this collective success. The project is finished and the battle is over."