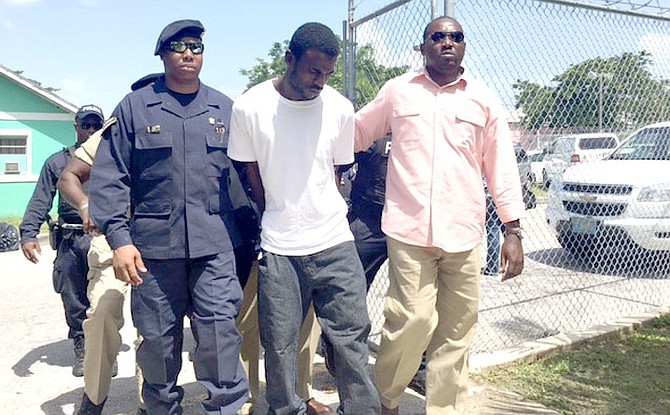 By LAMECH JOHNSON
Tribune Staff Reporter
ljohnson@tribunemedia.net
A 27-year-old man made his initial court appearance on Friday to be arraigned on 24 serious criminal charges ranging from murder, accessory to murder, attempted rape and armed robbery.
The attacks included the recent accosting and fatal shooting of a church minister at a bank automated teller machine (ATM).
Richard Bevans, of Bernard Road, stood before Chief Magistrate Andrew Forbes facing a charge of murder and armed robbery stemming from the death of Ivan Cleare at Scotiabank's branch at Wulff Road and Jerome Avenue on June 12. Cleare was a minister at New Bethlehem Baptist Church on Independence Drive.
Bevans was charged with armed robbery where it is alleged that he robbed Cleare of a Scotiabank card and murder under Section 291 (1)(B) of the Penal Code.
A charge under this section does not attract the discretionary death penalty if a conviction is reached at the end of the trial.
The 2011 amendment to the Penal Code, which followed the Privy Council's decision in the Maxo Tido decision, notes that only certain types of aggravated murder are currently punishable by death. These include murder of a law enforcement officer; murder of a judicial officer, including judges, registrars and prosecutors; murder of a witness or juror; murder of more than one person; murder committed by an accused who has a prior murder conviction; and murder in exchange for value.
The amendment further provides that any murder committed in the course of/or in furtherance of a robbery, rape, kidnapping, terrorist act, or any other felony is punishable by death, with no explicit requirement of intent to cause death.
Mr Cleare's lifeless body was discovered shortly after 8am on June 12 when police responded to a tip they received. Investigators were unsure of when the shooting took place or how long the victim had been lying on the ground.
Hours after the shooting, police issued two images taken from video surveillance footage which showed the alleged shooter and a silver coloured vehicle believed to be the gunman's getaway car.
The image released by police showed a dark-skinned man wearing a white t-shirt, dark coloured hoodie and a cap.
It is alleged that on the same day, Bevans robbed a woman at gunpoint of a Blu cellphone and other personal items.
Also on June 12, a 36-year-old woman was abducted and nearly raped. Bevans was charged with abduction and attempted rape in connection with this attack.
Two days earlier, in two separate incidents, a man and woman were robbed of their Samsung cellphones at gunpoint.
On June 6, a woman was carjacked at gunpoint in her Honda Civic worth $18,000 and robbed of other personal identification items.
On June 4, a woman was accosted for her LG Phone (value $700), RBC bank card and other identification items at the time of the armed robbery.
Bevans was further accused of being an accomplice to the murder and armed robbery of ZNS radio broadcaster Scott Richards on May 26.
Like his co-accused 30-year-old Raquel Johnson, Bevans is alleged to have robbed Richards of a $300 iPhone 3G, killing him in the process. The charge of murder also came under section 291 (1)(b).
According to initial police reports, officers from the Carmichael Road Police Station were on routine patrol near Bonefish Pond that day when they found Richards' body about 100 feet away from a grey Durango vehicle.
Richards was a radio announcer for ZNS Inspiration 107.9 FM.
Bevans was also arraigned on kidnapping, armed robbery and attempted murder charges concerning the attack of a banker, Angelo Black, on May 17.
Mr Black was sitting in his Ford Ranger truck on Yamacraw Beach having lunch shortly after noon when he was approached by a man with a handgun who demanded cash. According to reports, Mr Black was then ordered by the suspect to drive to an ATM on Wulff Road and then ordered Mr Black to drive to his home, where he had hoped he could collect more money.
According to police, Mr Black deliberately bumped the car in front of him in order to attract attention to his life-threatening situation, jumped out of his truck and tried to escape. Mr Black was shot several times, the most critical shot hitting him in the neck during his escape attempt.
On May 12, a man was accosted of $1,050 cash, a $2,800 Rolex, and a cellular phone. Bevans was accused of committing this armed robbery as well.
Days prior to that incident, on May 7, two men were robbed of Samsung cellphones.
On April 2, a man was carjacked on his 2010 Honda Civic and other personal items including his clothing and Nike shoes and a woman was robbed of a Samsung cellphone.
On that same night, a 24-year-old woman was abducted and sexually assaulted. Bevans was also charged in connection with this incident.
Bevans is also accused of robbing a woman of $20 cash on February 21.
Bevans last charge of armed robbery concerned the November 17, 2015 accosting of a man for his $900 Samsung cellphone.
The accused was told that the case concerning the murder of Scott Richards would be fast-tracked to the Supreme Court on June 27 at her next Magistrate's Court appearance.
The remaining cases will be forwarded on July 18.
He was remanded to the Department of Correctional Services without bail, but was informed of his legal right to make an application to the higher court for pre-trial release.
Bevans was unrepresented in Friday's arraignment.