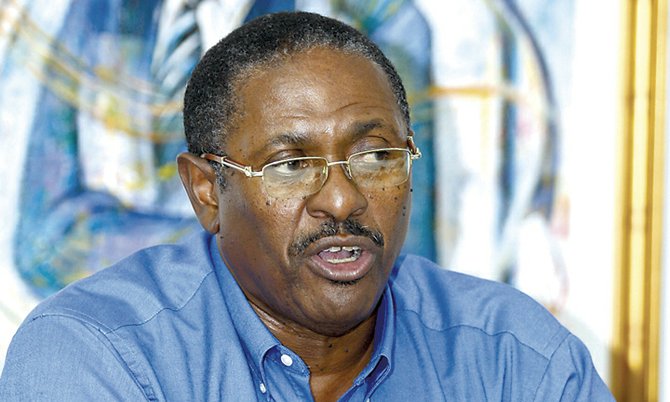 By SANCHESKA BROWN
Tribune Staff Reporter
sbrown@tribunemedia.net
PROGRESSIVE Liberal Party (PLP) Chairman Bradley Roberts mocked the Free National Movement (FNM) on Friday for being "unable to find a qualified, effective leader" since the exit of former Prime Minister Hubert Ingraham.
Speaking at a National General Council meeting at PLP headquarters, Mr Roberts questioned if Mr Ingraham is returning to lead the FNM or whether the "gang of six" had a master plan to challenge Dr Hubert Minnis at the party's July's convention.
Mr Roberts was referring to the FNM's parliamentary caucus' attempt to remove leader Dr Minnis from the helm of the organisation last month.
Six of the FNM's 10 MPs - St Anne's Hubert Chipman, Montagu's MP Richard Lightbourn, North Eleuthera's Theo Neilly, Central Grand Bahama's Neko Grant, Long Island's Loretta Butler-Turner and Fort Charlotte's Dr Andre Rollins - threatened to submit a letter of no confidence to the Governor General to have Dr Minnis removed as leader if he did not agree to an early convention.
"The Gang of Six released a very damning letter to the press wherein the Gang of Six said they cannot trust their leader, and said Bahamians see the FNM as corrupt," Mr Roberts said.
"Dr Minnis gave into the demand of the Gang of Six and agreed to hold a two day convention on July 2016. I have a few questions for (chairman) Sidney Collie: does the Gang of Six clearly have a master plan to put up a candidate to challenge Dr Minnis for Leader of the FNM?
"Is the candidate the retired politician and former FNM Leader Hubert Alexander Ingraham? If not Ingraham, who will challenge Minnis? If Dr Minnis wins re-election, will the Gang of Six retire from active politics as it is highly likely Dr Minnis will not support their nominations?
"It is a serious indictment on the FNM if after more than 20 years as leader and two resignations from that position, the FNM is unable to identify a suitably qualified alternative to Ingraham to lead that organisation into the future. Maybe Collie believes that only one woman could be 'born' a FNM leader."
Mr Roberts also criticised "the failure" of Dr Minnis to unite the FNM.
"Former FNM Deputy Leader and DPM Frank Watson gave Dr Minnis a year to prove himself. Former FNM Deputy Leader Watson publicly said that Minnis' appointment of Senator Lanisha Rolle was a tragic mistake," Mr Roberts said.
"Former Senator and FNM Chairman Cash repeatedly called for an early convention and so did former FNM Deputy Leader and DPM Brent Symonette. Former FNM candidate Cassius Stuart called for Dr Minnis to resign as Leader because of his (alleged) involvement with criminals and gangsters Bobo and Toogie in a murder for hire plot that involved money laundering for nefarious purposes."
The FNM's convention is scheduled for July 27-29.