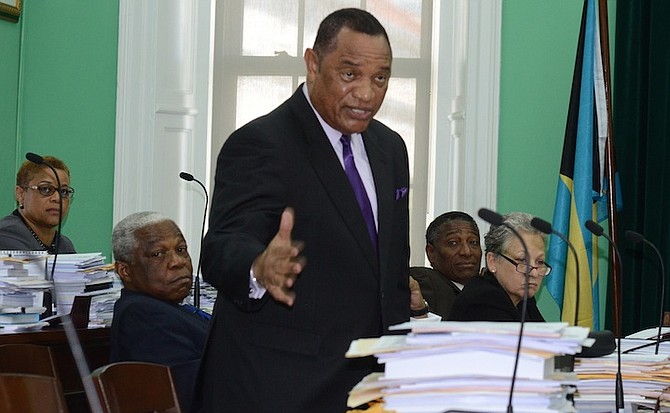 By RASHAD ROLLE
Tribune Staff Reporter
rrolle@tribunemedia.net
AMID rolling blackouts that have frustrated Bahamians, Prime Minister Perry Christie yesterday defended his government's decision to select PowerSecure to manage Bahamas Power & Light.
Tall Pines MP Leslie Miller, the former chairman of the Bahamas Electricity Corporation (BEC), told The Tribune Wednesday that the government should not have surrendered management of the corporation to the American company.
He said the utility provider had a plan to prevent summer blackouts under his watch.
Reacting yesterday, Mr Christie said he does not second guess his government's decision to partner with PowerSecure.
"When the management agreement was signed, we understood that we had to go through a significant amount of challenges and we're doing that now," he said on the sidelines of an event honouring retiring Permanent Secretary Colleen Nottage.
"The government will not second guess itself on the management agreement. What we have done is we have brought in not just individuals to manage, but individuals backed up by a major corporate personality in the United States of America. I heard my colleague Leslie Miller speak and challenge the agreement and say he thought we were wrong to do so. I think he is wrong in his position for any number of reasons, one of which is if you look at where we are in the region with respect to alternative methodologies, we're far behind many countries in the region. And they have been able to rely on integrating the private sector in helping them to provide electricity at a cheaper and affordable cost to their people."
"So there is no doubt in our mind, just as we looked at the airport and we made a decision for Vantage to take over the airport and we looked at BEC and made the decision to bring about a new paradigm there with Bahamas Power & Light where we think in the medium and long-term it's going to be the best decision for the Bahamas and you're going to see it, and he's going to see it, and he's going to appreciate it because he is a businessman and whatever his reasoning is, I haven't been able to share it with him at this state, but there's no doubt in my mind we made the right decision and the Bahamian people will see it."
On Wednesday, BPL conducted "outage rotations" to help address the corporation's struggles to meet customer demands.
One resident, Daphne Miller, of Coral Heights, told The Tribune her electricity was off for six hours Wednesday and then went off again yesterday.
"I'm so upset with BEC as I'm drowning in my sweat," she said.
Meanwhile, Mr Miller said under his leadership BEC planned to "have a fully operational 128 megawatt plant up and running by June of this year" thanks to financing and a guaranteed loan from the National Health Insurance Board.
After a lengthy process, the government signed a five-year agreement with PowerSecure in February to manage the struggling electricity corporation, which was later renamed Bahamas Power & Light (BPL).
It was recently revealed that the Christie administration nixed BPL's plans to raise rates to finance needed reforms.
In addition, PowerSecure recently provided the government with its business plan, details of which have yet to be shared with the public.