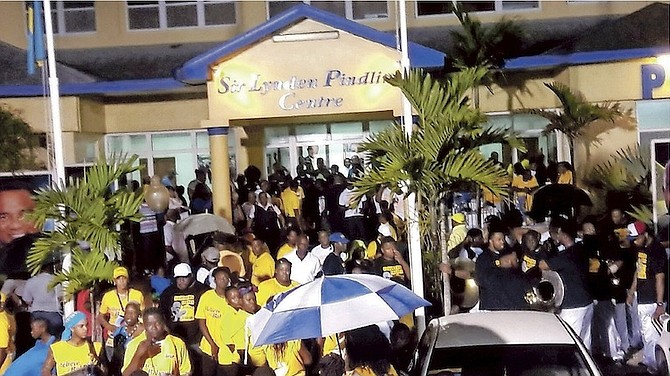 PROGRESSIVE Liberal Party Chairman Bradley Roberts yesterday criticised FNM Chairman Sidney Collie for seemingly being "preoccupied with the internal affairs of the PLP".
He was responding to a recent statement released by Mr Collie in which he put certain questions forward for the PLP's council to answer.
Mr Roberts spoke to the PLP's National General Council last night, as the party ratified three incumbent members of Parliament to run on the party's ticket in the 2017 general election.
They are Fox Hill MP Fred Mitchell, Southern Shores MP Ken Dorsett and South Beach MP Cleola Hamilton.
Mr Roberts referred to the six FNM MPs who recently gave FNM Leader Dr Hubert Minnis an ultimatum to hold an early convention or face being removed as leader of the Official Opposition by Governor General Dame Marguerite Pindling.
"I have a few questions for Sidney Collie: Does the 'gang of six' clearly have a master plan to put up a candidate to challenge Dr Minnis for leader of the FNM? Is the candidate the retired politician and former FNM Leader Hubert Alexander Ingraham? If not Ingraham, who will challenge Minnis?" Mr Roberts asked.
"If Dr Minnis wins re-election, will the 'gang of six' retire from active politics as it is highly likely Dr Minnis will not support their nominations?
"It is a serious indictment on the FNM if after more than 20 years as leader and two resignations from that position, the FNM is unable to identify suitably qualified alternative to Ingraham to lead that organisation into the future. Maybe Collie believes that only one woman could 'born' a FNM leader."
In a statement released Wednesday, Mr Collie offered some questions he wanted answered at the PLP's council meeting.
Mr Collie said: "On Monday Minister (Bernard) Nottage described the multiple killings this weekend as 'unusual' even though there have been a record setting 514 murders under this PLP government – does Minister Nottage have a concrete plan to combat the rising murder rate in the country, upon which the government can act?
"For more than four years the PLP has made promises regarding Baha Mar – from when it will open to creating 5,000 good paying jobs – all amounting to a lot of empty rhetoric and broken promises - can anyone in the meeting truly tell the people when or if Baha Mar has a new owner and if they will complete the project and get it open without millions more in taxpayer's money being spent on it?
Mr Collie added: "During the recent referendum there was a major delay in releasing the results that showed that this government failed and still no one has been held responsible for this terrible delay – who is finally going to be held responsible for the delay in announcing the results from the referendum?"
Last night, Mr Roberts also lamented the "disappointing" low voter turnout in last week's gender equality referendum, adding that he was "saddened" that fears of gay marriage overshadowed the vote.
"The results of the recent referendum as well as the low voter turnout were disappointing," Mr Roberts said.
"Councillors, we are obliged once again to accept the will of the people. I am personally saddened that theme of homosexuality and same-sex marriage were promoted as central issues in the public debate when in fact they were not the issues being addressed with the four questions on each ballot. The promoters of the 'no' vote proclaimed: We diverted the global homosexual agenda. Time will affirm that they were terribly misguided."