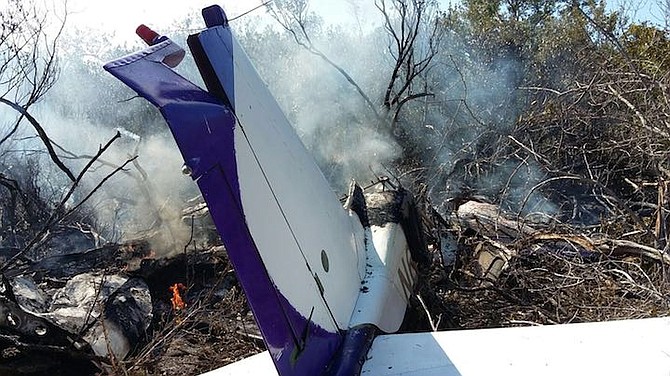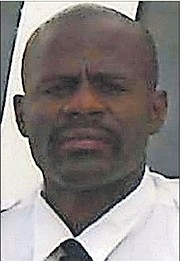 By RASHAD ROLLE
Tribune Staff Reporter
rrolle@tribunmedia.net
TWO men are dead after a private plane exploded shortly after take off at the South Bimini Airport yesterday.
The Piper Aztec plane crashed in bushes just off the runway at 4.15pm.
The Tribune understands that the men who died included the pilot, Terrance "Tango" Gibson, and an airplane mechanic, Anthony Smith, nicknamed "Scrubby".
A statement released by the Department of Civil Aviation said officials will travel to Bimini this morning to begin investigations. Police are also investigating the crash.
"At 4.15pm (on) June 19, aviation officials at South Bimini Airport received a report of smoke in bushes near the airport. Investigations revealed that an aircraft had crashed in the bushes adjacent to the runway."
"The aircraft's registration number is N63ZZ, a PA 27, which departed Bimini minutes earlier.
"Two fatalities are confirmed. Civil Aviation Department Accident Investigation representatives are scheduled to travel to Bimini tomorrow morning (Monday), to begin investigations into this matter," the statement said.
Condolences for the victims poured out on social media yesterday, with one person writing on Facebook: "Tango was one of the few pilots who helped me out when I was learning to fly planes. If he had an extra seat, he would always carry me, and when we (were) flying back to Freeport alone he would let me fly so I could get more practice and experience. I'm really sad right now."
Another person who claimed to have known Mr Gibson said: "(I) am thankful that the last time I saw him, he was confessing Jesus Christ as his Lord. Praise be unto the Lord."
Last September, four men escaped death after their small six-seat plane crashed in waters near Chub Cay in the Berry Islands.
The aircraft reported experiencing engine trouble and had to ditch in the water.
Not long after the ditch, a rescue team of police and civilians found the four men with life jackets in about 45 feet of water. An official confirmed that the plane was found upside down.
In June 2015, five people escaped a brush with death when their single engine Cessna 172 aircraft flying from Pittstown, Crooked Island, crashed into the sea 13 miles southeast of Nassau. There were four adults and one child on the plane.
The pilot reported engine problems before he ditched the plane in the sea. The five survivors were found in a life raft and were taken by the Royal Bahamas Defence Force to its base in Coral Harbour.
In late 2014, Dr Myles Munroe, pastor of Bahamas Faith Ministries International, and his wife Ruth were among the nine people on board a Lear 36 executive jet that went down in a gruesome crash in bad weather in Grand Bahama. The plane had collided with a crane at the Grand Bahama Shipyard and crashed in a nearby junk pile. All on board were instantly killed.