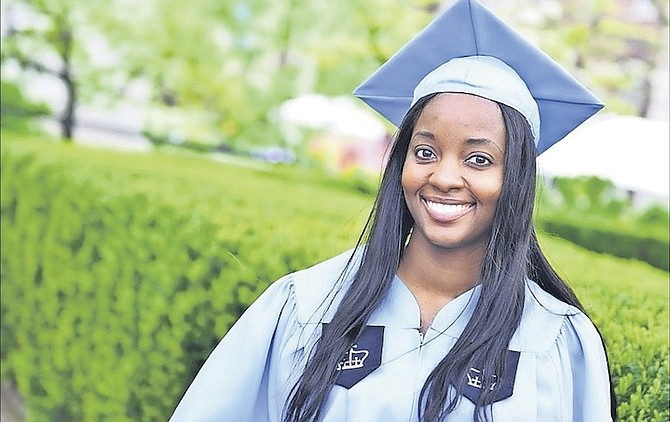 By ALEXANDER HAWKINS
A BAHAMIAN student who was orphaned in her teens has returned home after graduating from one of the United States' top universities to pursue her passion for the environment.
Ingeria Miller was graduated from Columbia University's prestigious School of International and Public Affairs (SIPA) last month and has turned down job offers in America in favour of a position in the Forestry Unit of the Ministry of the Environment.
Her early life lacked parental guidance through tragic circumstances but in her early teens she was adopted by Pastor H A Roach and his wife, Olga. Pastor Roach told The Tribune with pride that sheer "willpower", "determination" and the "grace of God" allowed for his daughter's success.
Ms Miller decided to return to The Bahamas despite job offers in the United States and the promise of publication of her work on the effects of colonialism on the natural environment. She said her passion for the environment helped her through her education and she hopes that through her chosen career she will be able to promote "education" and "engender a love of the environment" in the young people of this country.
Following secondary education at Bahamas Academy and a brief period at the College of the Bahamas, Ms Miller studied for her Bachelors Degree at Cornell University in Ithaca, New York. She attended Cornell on the Nature Conservancy Merit Scholarship majoring in natural resources with minors in ecology and policy analysis. Ms Miller turned down places at two medical schools to pursue her interest in environmental conservation by studying for a Masters Degree in Environmental Science and Policy at Columbia University in Manhattan, New York.
She was the Bahamian flag carrier at commencement and graduation ceremonies there.
In addition to her Masters studies, she had a distinguished extracurricular experience at Columbia. She worked as an intern at the University's Earth Institute, a global scientific organisation under the leadership of Professor Jeffrey Sachs which seeks to encourage sustainability in global society.
Within the Earth Institute she was part of a team which reviewed and critiqued the New York Health and Green Procurement Act, a piece of draft legislation which would give preference to the purchase of environmentally friendly commodities, services and technologies by the state government.


Her duties included creating the first green procurement office for New York State, including staff provision and first year budget. She has also taken part in tours of Israel and Russia.
She has also worked as research assistant with the Kirtland's Warbler Research and Training Project and been attached to the Ministry of the Environment for eight years. She has a wealth of training in project management, invasive species management, Geographic Informational System, climate change and coastal zone management. Her hobbies include travelling, fashion and community service.