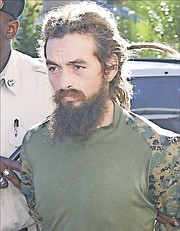 By LAMECH JOHNSON
Tribune Staff Reporter
ljohnson@tribunemedia.net
A JUDGE has reserved his decision on what sentence he will impose on an ex-US marine who has been convicted of attempted murder.
Justice Bernard Turner was asked by attorney Christina Galanos yesterday to be lenient with 30-year-old Heath John Henry whose attempted killing of Jonathan Rahming on December 30, 2014 at Current Island, Eleuthera appeared to be an isolated incident for a man who had a record of service to the community.
Henry, who has American and Bahamian citizenship, was convicted in March by a majority verdict of 8-1 concerning the shooting incident 18 months ago.
A police search team found Henry hiding under a Ghillie blanket - a type of camouflage - on a cliff on Current Island on January 2, 2015. Henry allegedly told police that Rahming charged at him while wielding a cutlass and he shot him in self-defence. When asked for the location of the gun, Henry said that he had thrown it in the swamp.
In a sentencing hearing yesterday, Ms Galanos made a plea in mitigation on Henry's behalf.
She noted that her client was gainfully employed as "a spear fisherman and had a contract to catch lionfish for a restaurant."
Henry's childhood was difficult due to a custody battle between his parents where he unwillingly had to live with a verbally abusive father.
Notwithstanding this, Ms Galanos highlighted that her client attained the rank of corporal during his four-year stint as a US marine when he graduated from high school.
The lawyer said the probation officer who interviewed various individuals known to the convict spoke of him as being "compassionate, respectful and soft spoken."
"He maintains his innocence and that the shooting was in self-defence. Nevertheless, he's remorseful the circumstances played out the way they did," the court heard.
She noted that her client has already been in custody for eight months, five before he was released on bail and the remaining after his conviction.
She added that notwithstanding his arrest and conviction, he's had family support from his mother.
The lawyer asked the court to pay particular attention to page six of her client's probation report where a community youth leader, Maggie Rolle, spoke favourably of the volunteer work and mentoring Henry provided to at-risk youth in the inner-city communities between 2010 and 2013.
"All reports indicate that this incident was an isolated one and there's no history of a propensity for violence," Ms Galanos stressed.
She argued that a sentence in the rage of five to 10 years was reasonable when considering previous cases like R v Ferguson (1983) and R v Miller (2013) where in the latter case, the convict received six years imprisonment.
Prosecutor Eucal Bonaby said the Crown would rely on written submissions that were previously given to the court.
However, he wished to place emphasis on the Court of Appeal case of James Miller where the convict received 40 years imprisonment for attempted murder.
Mr Bonaby also said it could not be ignored that the convict had pursued his victim who was running away and shot at him a number of times.
"The physical evidence is that the victim was shot from behind and so the victim could not have received the injury in the manner that the convict asserts," the prosecutor said.
"So you're recommending a sentence of 20 years to life?" Justice Turner asked.
"Anything between 15 years and life would be appropriate," the prosecutor said.
Justice Turner said he would have a decision on July 8 at 10am.