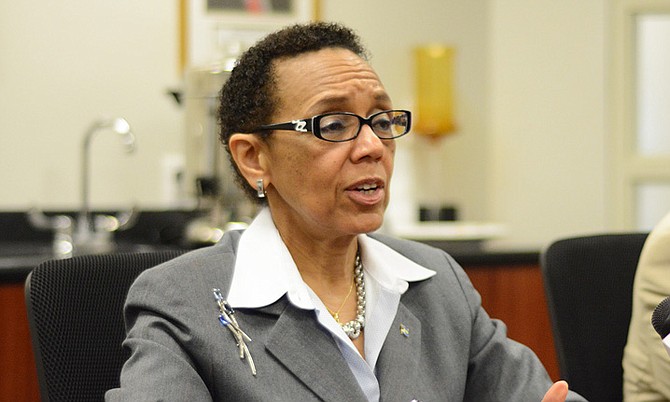 By RASHAD ROLLE
Tribune Staff Reporter
rrolle@tribunemedia.net
THE conviction rate for Supreme Court cases up to April of this year was 71 per cent, a dramatic improvement from the 31 per cent that was recorded by the end of 2012, Attorney General Allyson Maynard Gibson revealed yesterday during her contribution to the budget debate in the Senate. Up to April of this year, the acquittal rate was 29 per cent.
"We have increased the number of criminal courts to ten," Mrs Maynard-Gibson said as she highlighted the successes of her office in the past four years.
"We have modernised the court facilities through use of technology. We have decreased the backlog in the courts.
"We have increased the speed of criminal prosecutions. We have increased the efficiency of the system and of prosecutions. We have reduced the adjournments and we have fast-tracked cases. We have produced witness protection services to the individuals who require these services. We have increased the rate of convictions of matters going to trial as a result of better collaboration with investigators and prosecutors and with witnesses."
Conviction rates have gradually improved over the past four years even as the number of trials the Office of the Attorney General has pursued in the Supreme Court has also significantly risen, she said.
In 2012, 118 trials took place in the Supreme Court; 232 took place by the end of 2015 and that record is expected to be topped this year, she said.
Mrs Maynard-Gibson used the statistics to contrast the Christie administration's performance with that of the former Ingraham administration.
She also emphasised that families hurt by violent crime need closure as soon as possible.
She said the former Free National Movement administration presided over an inefficient system and she knocked the former administration for abandoning the Swift Justice programme when it came to power in 2007.
"One murder is one murder too many," she said. "But the point is, for those families that have been turned apart from such trauma, it's the obligation of the system to bring comfort to those families by rapidly dealing with these matters. We inherited a badly broken system that cannot be fixed overnight. We want our system to work so that a grieving family could put that trauma behind them."
"What is Swift Justice?" she asked as she spoke about the signature programme of her tenure as attorney general. "Swift arrests, swift presentations of voluntary bill of indictments, swift trials, swift prosecutions, swift sentencing if guilty."
She told The Tribune yesterday that she would provide statistics on the number of nolle prosequi presented and discharges to give a full picture of the results from cases brought to the Supreme Court.
In addition to pursuing more cases and securing better conviction rates during the past four years than previously, Mrs Maynard-Gibson said her office is having success reducing the backlog of cases that have long burdened the justice system.
There were 1,059 backlogged cases in 2012, whereas as part of a gradual decline in this area there are 737 such cases today, she said.
She announced that Chief Justice Hartman Longley has agreed to her request to have one judge assigned to deal exclusively with backlogged cases, a change in practice.
In 2015, seven murder trials were completed within a 12-month period, she said, calling this an unprecedented achievement.
Quick use of voluntary bill of indictments is a major reason behind the speedier trials, she added, explaining that whereas on average it took 344 days for lawyers in 2012 to present judges with an VBI, it takes on average 70 days for that to happen now.
The number of bail applications being made per year is also on the decline, she said, noting that in 2014 there were 1,109 such applications made, whereas not more than 902 such applications are projected for this year.