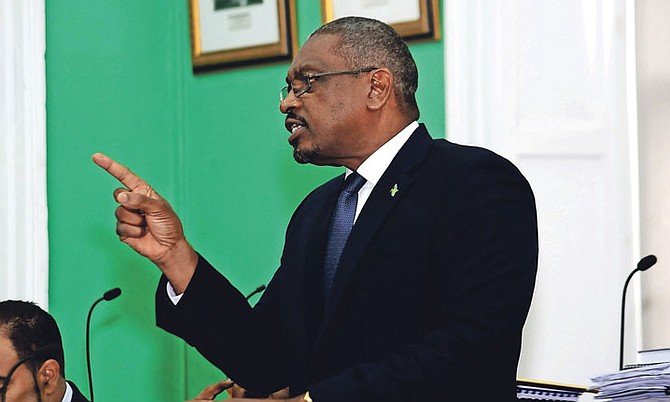 By SANCHESKA BROWN
Tribune Staff Reporter
sbrown@tribunemedia.net
OPPOSITION Leader Dr Hubert Minnis said yesterday if he is elected prime minister, he would hold a referendum on capital punishment "as soon as possible".
In an interview with The Tribune, Dr Minnis said he would immediately seek to amend the Constitution to remove the UK-based Privy Council as the highest court of appeal for murder convicts.
Dr Minnis said in the case of murder convictions, if the trial judge feels the nature and circumstances of the killing merit the imposition of a death sentence and the Court of Appeal agrees, the sentence should not be appealed to any other court anywhere else in the world.
On Tuesday in the House of Assembly, Dr Minnis said that the necks of "murderous scumbags" in the country must be "popped" as he castigated the Christie administration for failing "miserably" in its obligation to keep Bahamians safe.
He said until festering crime levels in the Bahamas could be controlled, the economy would fail to grow.
"I will do everything in my power to ensure that we start hanging these murderers," Dr Minnis said when contacted on Thursday.
"I want to amend the Constitution so murder cases will only go as far as the Court of Appeal right here and would no longer go to the Privy Council. I will do everything to carry out the law and the law says hang so that is what I will do. "This issue will be discussed and debated in the House of Assembly and then taken to the people. We will have this referendum because I am a strong advocate and believer of hanging. The crime has to stop and this is just one way we will attempt to stop it."
The London-based Privy Council, the country's highest court, has been portrayed as an obstacle to the Bahamas carrying out the death penalty after declaring in 2006 that the country's mandatory death penalty upon a murder conviction was unconstitutional.
Five years later, in June 2011, the high court overturned Maxo Tido's death sentence in connection with the killing 16-year-old Donnell Connover, whose body was found off Cowpen Road, battered and bruised, her skull crushed. There was additional evidence that parts of her body were burned after her death.
But the Privy Council concluded that the murder was not an example of the "worst of the worst."
In November 2011, Parliament passed legislation to define the types of murder constituting the "worst of the worst" guidelines set out by the high court.
The last execution of a convicted murderer was the hanging of David Mitchell in 2000 under the former FNM administration.