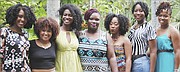 The Green Earth Festival will be held April 23-24 and will showcase health and wellness products.
Created in 2010 by Rhonda Wright, who was joined by her partner Aisha Nesut Ani in 2014, the festival brings together companies, individuals and organisations to improve lives in a one stop health, wellness and green shop.
The Green Earth Festival will take place at the historic Fort Charlotte.
The festival will offer a cook off, yoga classes, plant based food options and entertainment, among other events.
"At the Green Earth Festival we see an increase in the number of attendees every year, but we also see an increase in those businesses wishing to cater to healthier and eco-friendlier lifestyles. That is why we keep coming back, we want to do our part to contribute to an increase in our GDP number but we also want to reduce those numbers of Bahamians with health issues and escalate the number of persons taking care of the Earth as good stewards.
"This family event is dedicated to helping us create the lives we've always wanted to live," organisers said.