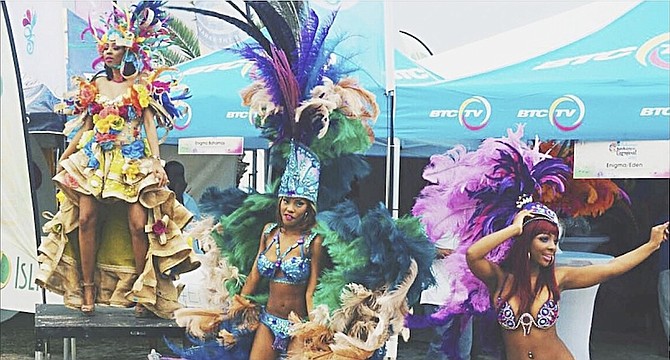 By SANCHESKA BROWN
Tribune Staff Reporter
sbrown@tribunemedia.net
THE budget for this year's Bahamas Junkanoo Carnival has been cut by more than $8m and will likely be "around $3m," Tourism Minister Obie Wilchcombe said yesterday.
However, Mr Wilchcombe told The Tribune that the "work on the final number is still being done".
Mr Wilchcombe said the Bahamas National Festival Commission (BNFC) will be responsible for "raising" the additional money needed for the anticipated event and getting sponsorship.
When contacted, BNFC Chairman Paul Major said the group is "working on getting sponsors" but declined to say how much additional money will be needed to pull off the event.
The government had budgeted $9m for its inaugural Junkanoo Carnival, but because of cost overruns, the festival's cost ballooned to $11.3m.
The government reaped $8.3m in combined direct and tax revenues, with the latter providing $6.7m of that sum.
It is still unclear which entertainer, if any, will headline the festival's main concert. Last year, the government received heavy criticism for failing to secure a headliner well in advance of the festival before ultimately deciding on Trinidadian soca singer Machel Montano.
Last Wednesday, Mr Wilchcombe said his ministry has the support of the cruise lines to provide visitors for this year's Junkanoo Carnival, adding that the event must go global.
"I'm concerned because I'm responsible for tourism. I'm concerned that we get the numbers we want for visitors this year for carnival, and so we're working with the cruise lines. We had a meeting with the cruise lines and they have indicated their support for what we want to do.
"We want to create an atmosphere where carnival is seen as a season, not an event. We want to make sure that people get a taste of our culture. As I have said before, I want to see more Junkanoo, more Bahamians involved, ensure that the entertainers are properly utilised, and it has to be an event that goes global."


Bahamas Junkanoo Carnival organisers said last week that a more "focused" approach has been taken to marketing this year's event.
Junkanoo Carnival will take place on May 5-7 in New Providence, with a kick-off event from April 15-16 in Grand Bahama.
Last year's festival attracted about 115,000 spectators or participants, employed 7,208 people and benefited 880 small and medium enterprises.