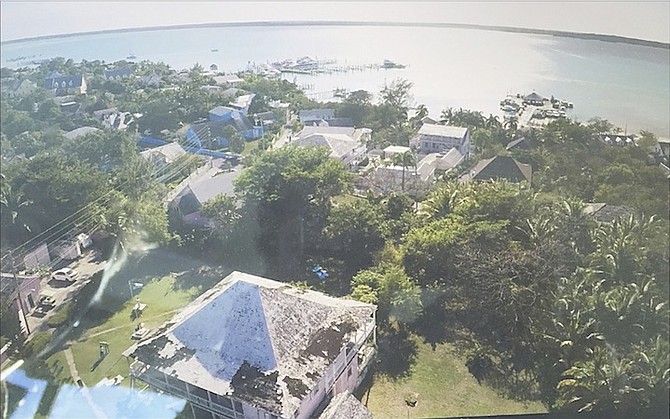 THE Commissioner's residence in Dunmore Town, Harbour Island, is being evaluated to determine its historical significance, potential restoration and future preservation.
Last month, a team of undergraduate and graduate architecture students and faculty members from the University of Miami School of Architecture went to Harbour Island to embark on a project - a direct result of a new partnership between the Antiquities, Monuments & Museums Corporation (AMMC) and the university - to evaluate the Commissioner's residence.
"The University of Miami provided us with a Letter of Intent based on a visit to their institution by officials from the AMMC in November 2015 to have the Commissioner's residence on Harbour Island fully evaluated and classified based on the standards and guidelines of the Historic American Building Survey (HABS) standards," Dr Keith Tinker, Director of AMMC, said. "It is our hope that this relationship will develop into a greater partnership between our agencies."
The team conducted their initial assessment in Harbour Island and will spend the remainder of the semester working with researchers at AMMC to compile their findings.
"From our end, the project is a way for us to continue our work of identifying sites for further historic preservation as it is set out in our mandate at the Corporation," Dr Tinker said. "This partnership allows us to evaluate the site in question and set up proper standards and guidelines for future preservation."
For Ricardo Lopez, project lead and lecturer at the University of Miami School of Architecture, the initial trip established the framework to properly classify the property. "Our interactive tour of the Harbour Island community and more specifically, the evaluation of the Commissioner's residence, allows our team to better assess and make specific determinations about the historical significance of the site and how to best classify it by international standards," he said.
Mr Lopez and his team used digital technology to document the process by incorporating drone-mounted cameras to collect what the team described as "photogrammetric information". The findings are being processed in Miami and students are busy making proportional sketches for relevant dimensions of the Commissioner's residence.
It will take a full semester for the unviersity team to compile the data gathered in Dunmore Town. The data collection is the first step in the full restoration process. "The hope is that this fine building might one day be restored to a habitable condition while maintaining the character and elegance that its original design conveyed," Mr Lopez said.
The project in Dunmore Town is one of several ongoing research and preservation initiatives undertaken by AMMC on Harbour Island. In September, the Corporation signed an agreement with OAS-funded COHERIT to have Dunmore Town become an internationally recognised historic district and be added to the National Register of Historic Resources.