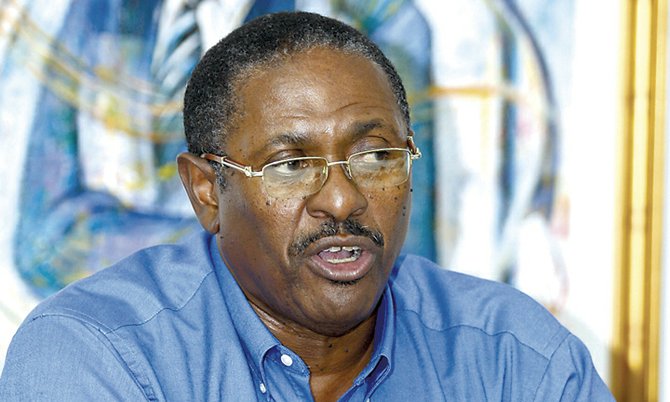 By RICARDO WEELLS
Tribune Staff Reporter
rwells@tribunemedia.net
PROGRESSIVE Liberal Party Chairman Bradley Roberts has lambasted Opposition Leader Dr Hubert Minnis, calling his role in the ongoing Cabbage Beach easement dispute "runaway rage".
According to Mr Roberts, the Free National Movement leader has done incalculable damage to the administration of justing and the rule of law. In a statement on Thursday night he also suggested that Dr Minnis' "trumped up charges" claim levelled at the Royal Bahamas Police Force should be viewed and classed as dangerous, undemocratic, demagogic and pathetically stupid.
"Dr Minnis not only accused the Police of presenting "trumped up charges", but he shockingly stated that if the charged persons were convicted, he and the FNM would expunge the charges if elected in 2017," Mr Roberts said. "Dr Minnis further alleged that a PLP Police Inspector was kicking protesters and should have been charged. He has defamed the Police, threw due process on the garbage dump of his crass ignorance and insane stupidity, and promised to do what only a totalitarian government would do, interfering with decisions of the courts willy nilly, and without appropriate process of law," he added.
The former Bain and Grants Town MP said the entire ordeal could have been avoided, suggesting that Dr Minnis' refusal to tell protesters that the access issue had already been resolved by Prime Minister Christie "hours before the protest and fury" escalated a tense matter.
"If this is the FNM's position, then God help the rule of law under an FNM government," he said.
On Thursday, ten people who protested against a blocked access point to Cabbage Beach - Urvan Moxey, 46, Miguel Joseph, 26, Derek Thompson, 64, Lincoln Bain, 39, Hubert McIntosh, 59, Sam Butler, 52, Trevor Lightbourne, 46, Francis Johnson, 50, Derek Cox, 58 and Jharo Saunders, 23 - were arraigned on charges of damage, disorderly behaviour and three counts of obstruction.
Of the group, only Moxey entered a not guilty plea to the charge of damage; however, he refused to enter a plea for the other two charges.
All of the other defendants refused to enter pleas for all of the charges, which the Chief Magistrate Joyann Ferguson-Pratt recorded as "not guilty" in accordance with the provisions of the CPC.
Bail for all involved was set at $1,800. The group is set to return to court on April 20 for a status hearing.