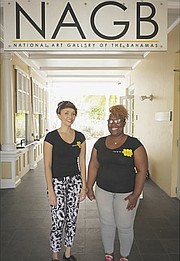 IN ANTICIPATION of plans to open a satellite gallery in Grand Bahama, the National Art Gallery of The Bahamas (NAGB) is putting on an exhibition this week in Freeport featuring the works of two renowned Bahamian artists - Maxwell Taylor and Amos Ferguson.
The show is entitled "Max/Amos" and will run from Monday until April 15 at the Sir Charles Hayward Library. It will feature 18 works, nine by each artist, whose works are held in the NAGB's national collection and will give a taste of what that has to offer.
The planned satellite NAGB will be part of the newly projected Museum of Grand Bahama, which is under construction at the grounds of the former Shannon Country Club. It has been in the works for the past three years, as the NAGB board and Director Amanda Coulson have sought to bring it to fruition, according to a press release from the gallery.
This week, NAGB Community Outreach Officer Abby Smith and Curatorial Assistant Natalie Willis will install a pop-up exhibition at the Sir Charles Hayward Library, host a workshop and talk and lead school outreach initiatives. On Monday they will curate the exhibition and on Tuesday they will hold the 'Paint like Amos' workshop for high school students.
Smith and Willis will present on Ferguson's work before setting the students up with a challenge. Armed with paint brushes, house paint, nails and cardboard, students will be given an image to recreate à la Ferguson. Designed to help BGCSE students with their coursework, the workshop will be offered free of charge to those participants studying for the exam.
Well known local artist Chantal Bethel, who is also an NAGB board member, described the event as significant. "This is a great beginning for us, and we're looking for more great things to come," she said.
Also that evening Smith and Willis will host a talk on the exhibition and featured artists. They will make school visits on Wednesday to Friday to make presentations on the NAGB and bring awareness to the planned satellite gallery.
People interested in finding out more about the NAGB's visit to Grand Bahama or the planned Grand Bahama-based gallery can contact the Nassau gallery at 328-5800/1. Grand Bahamas schools can book a visit by emailing asmith@nagb.org.bs.