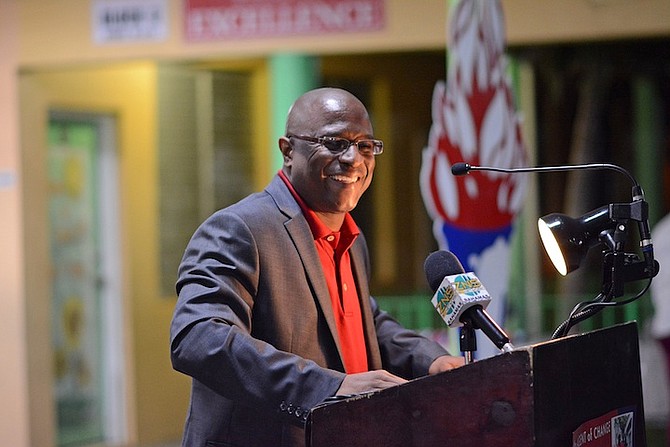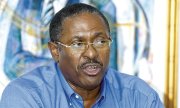 By AVA TURNQUEST
Tribune Chief Reporter
aturnquest@tribunemedia.net
PROGRESSIVE Liberal Party Chairman Bradley Roberts yesterday called on the Free National Movement to fire Senator Michael Pintard and force his resignation as the party's chairman over his involvement in the contentious lawsuit against Canadian fashion mogul Peter Nygard.
The FNM Chairman was named in the 400-page affidavit by Florida investigator John Joseph DiPaolo, who was hired by Lyford Cay billionaire Louis Bacon and Fred Smith to investigate Mr Nygard's connection to self-proclaimed criminals Livingston "Toggie" Bullard and Wisler "Bobo" Davilma.
Bullard and Davilma claim that Mr Nygard paid them to stage several hate rallies and commit such criminal acts as arson and harassment. The men also claimed to have relationships with Prime Minister Perry Christie and Deputy Prime Minister Brave Davis, and are featured in purported secret videos discussing their familiarity with Mr Nygard.
The criminals were tracked down with the help of FNM senator Michael Pintard, according to Mr DiPaolo's affidavit, which noted it was Mr Pintard who alerted Fred Smith that the men were behind the protests against Save The Bays.
Yesterday, Mr Roberts questioned why Mr Pintard did not turn the men over to police himself and questioned whether the FNM Chairman received any compensation for the information.
He also asked whether Mr Pintard was aware of any work permits or official notifications necessary for the foreign investigators to have conducted their investigation in the Bahamas.
"In light of the most serious admissions to fundamental and egregious wrongs," Mr Roberts said, "I join with the patriotic and concerned people of the Bahamas in calling on FNM Leader Dr Hubert Minnis to fire Michael Pintard as an FNM Senator and to cause his resignation as national chairman of the FNM."
"I wish to assure Bahamians and PLPs everywhere that our organisation is stronger than ever and we are prepared to rebuff and defend our leaders against the vicious and fraudulent allegations contained in these documents," he added.
The affidavit was included in a lawsuit against Mr Nygard and his lawyer Keod Smith by Save The Bays directors Joseph Darville, Romauld Ferreira, Reverend CB Moss, Fred Smith and Mr Bacon.
The plaintiffs compensated Bullard and Davilma for being whistleblowers in exposing Mr Nygard's alleged criminal activities, according to the court documents.
In his affidavit, Mr DiPaolo noted that Mr Pintard is a friend and colleague of plaintiff Fred Smith, having worked together over the years in civic, professional and political capacity. Mr Pintard was said to be a longtime supporter of Save The Bays and that he had been "outraged" by the attacks on Reverend CB Moss at the hate rallies due to his close relationship with the pastor.
After watching an online video of the 2013 Jaws Beach altercation between Fred Smith and Keod Smith, Mr DiPaolo said Mr Pintard warned Fred Smith that he was in potential danger if the matter was not resolved.
Fred Smith later asked Mr Pintard to assist him in his efforts to find out who had organised the hate rallies.
In the course of his enquiries, Mr Pintard was given information that led to an introduction to Bullard and Davilma.
Bullard and Davilma told Mr Pintard that they were hired by Mr Nygard to organise the hate rallies, and also kill or cause harm to certain persons.
Mr Pintard then reported the information to Mr Smith, who along with Mr Bacon, decided not to go to the police but to launch a private investigation.
Yesterday, Mr Roberts questioned whether Mr Pintard gave Bullard and Davilma any advice or directives, and whether his party was aware of his involvement.
He also asked whether Mr Pintard was on the payroll of Save The Bays as a writer, publicist or organiser.
Mr Roberts said: "Dr Minnis must answer to the Bahamian people for the apparent complicity within the highest echelon of the FNM in connection with the 'Save the Bays' organisation as the allegations and admissions of dishonourable, offensive and damning behaviour will not go away.
"In light of the above information already placed in the public domain, the police should have picked up Michael Pintard by now and questioned him on what he knows and ascertain the extent of his and the FNM's involvement. Mr Pintard must necessarily be named as a person of interest by the police," Mr Roberts claimed.
He said the indications were that FNM Shadow Attorney General MP Richard Lightbourn agreed. Mr Roberts was referring to a statement by Mr Lightbourn, who yesterday called for an immediate investigation into the claims made in the secret videos.