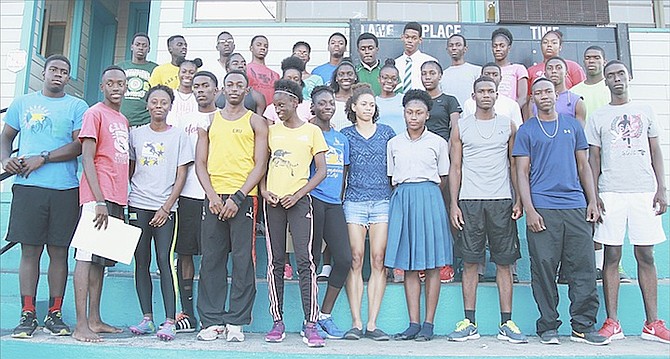 CARIFTA ATHLETES MEET WITH MANAGEMENT
THE 54-member CARIFTA team met with management yesterday at the Thomas A Robinson Track and Field Stadium as they got all of the information needed to make the trek to St George's, Grenada, over the Easter holiday weekend.
TEAM BAHAMAS was named following the final trials over the weekend.
Under-18 females
Devine Parker, Sasha Wells, Megan Moss, Britinni Fountain, Denia Freeman, Quanisha Marshall, Charishma Taylor, Doneisha Anderson, Daejha Moss, Kennedy Culmer, Gabriella Gibson and Marissa White.
Under-18 males
Johnathan Smith, Benjamin Clarke, Jyles Etienne, Edward Kemp, Johnny Jean-Jacques, Branson Rolle, Adrian Curry, Trent Ambrose, Shaquille Higgs, Javaughn Culmer, Kaze Poitier, Levardo Hendfield, Sherrod Corey and Rubin Smith-Bastian.
Under-20 females
Janae Ambrose, Shaquania Dorsett, Serena Brown, Breshae Wood, Tahj Dorsett, Brianne Bethel, Tanae Miller, Britney Bethel, Alexya Sawyer and Wendira Moss.
Under-20 males
Javan Martin, Keanu Pennerman, Samson Colebrooke, Verdell McIntosh, Kinard Rolle, Tavonte Mott, Shakeen Smith, Benjamin Najman, Blayre Fernander, Perry Adderley, Ramel Poitier, Douvnklyn Rolle, Kendrick Thompson, Ken Mullings, Ken Russell, Cameron Oliver, Colin Martin and Bradley Dormeus.
• The management team will
comprise of the following:
Team manager - Mildred Adderley; assistant manager Sandra Laing; head coach Wendal Collie; assistant head coach and throwers coach Dawn Johnson; jumps coach Antonio Saunders; sprints Audrick Lightbourne; distance coach Quinton Smikle and pole vault coach Kenny Moxey.
The medical team is led by Dr Arthur Clarke, along with two physiotherapists and chiropractor Michael Armbrister.
Rosamunde Carey is head of the delegation and will be joined by secretary general Drumeco Archer and special projects officer Dexter Bodie.
By BRENT STUBBS
Senior Sports Reporter
bstubbs@tribunemedia.net
AS the Bahamas Association of Athletic Associations held its final CARIFTA Trials over the weekend, there were some outstanding performances produced by athletes as they prepare for the trip to St George's, Grenada, over the Easter holiday weekend.
One of those performances came from Grand Bahamian Javan Martin, who sped to a winning time of 10.43 seconds to hold off collegian Keanu Pennerman, who settled for second in 10.48. They both went under the qualifying time of 10.60 and were named to the 54-member team announced by the BAAA on Sunday.
"It was a blessing for me and I was very proud of my performance because this was just my second 100m for the season," said Martin, an 11th grader at Tabernacle Baptist Academy. "To see myself run that kind of time made me excited because I started training a little late. So it was a blessing coming first with a 10.4."
Admitting that he's not one to live in the past but rather the future, Martin said he has some lofty goals for this year, which include returning to the games and duplicating last year's triumph in the under-18 boys century in 10.41, although he will be moving up to the under-20 division.
"I just have to do what I have to do to reach my goals for this year," said Martin, who turns 18 on April 15. "I want to run at least 10.1 and eventually make the team that will go to the Olympic Games. I see myself running faster with each race, so I know with the competition at CARIFTA, I can do it. The way the competition is going to be there, I should be able to run at least 10.2 or faster."
Another Grand Bahamian Brianne Bethel, who shared the under-18 girls' bronze in the 100m in 11.63 with Jamaican Shaeil England and was the silver medallist in the 200m in 23.47 behind English's gold medal time of 23.38, is also back on the team, but this time she too will be competing in the under-20 division.
"It was good. I had an exceptionally good start. It could have been better, but I'm getting better at it. I came first, so that is good for me," said Bethel, who clocked a wind-aided 11.65 in the straight away race and came back and ran 24.22 in the 200m. "I only ran three meets so far this year, so I guess this is where I need to be. But I expect to move up with the medals. I'm looking to get a gold. I'm really looking forward to it."
The under-18 girls' division saw Devine Parker leading the way on the track as she posted a double dose of victory. She took the 100m in 11.64 in a race that saw the next three finishers - Sasha Wells (11.81), Kennedy Culmer (11.89) and Megan Moss (11.90) - all going under the qualifying time of 12.05. Parker also ran 23.72 to double up in the 200m with Moss trailing her in 24.52 as they both dipped under the qualifying standard of 24.60.
There was also a qualifying mark achieved in the 400m as Britni Fountain won the one-lap race in 55.73. The qualifying time was 56.00.
The under-18 boys' division also saw a couple of qualifiers on the track as Johnathan Smith ran 10.73 and Adrian Curry followed him in 10.76 as they both eclipsed the standard of 10.90. Smith came back in the 200m and ran 21.78 to go under the mark of 21.80.
Also on the track, Branson Rolle clocked 53.00 to win the under-18 boys' 400m hurdles as he went under the qualifying standard of 54.20.
"It was a little rocky going over the first hurdle, but I got it together over the other hurdles, so that race was pretty good for me," said Rolle of his performance as he ran away from the field. "I was expecting ro run a little faster, but I did a personal best, so I'm very pleased."
Rolle, 17, said his goal is to drop his time significantly in Grenada by at least two seconds as he attempts to go for the gold.
Last year, Doneisha Anderson picked up a silver medal in the under-18 girls' high jump with a leap of 1.71m (5-7 3/4) and she earned another trip to the games when she cleared 1.65m (5-5) to match the qualifying height.
"My performance was good. I had some competition, but it was good. It went smooth as usual," Anderson said. "I just need to get in more training and I know I will be ready to compete."
One athlete who showed that she's definitely in tip-top shape and ready to compete is Charisma Taylor, a double gold medallists last year in both the long and triple jump. Taylor booked her ticket by posting her winning leaps of 5.66m (18-7) in the long jump and 12.05m (39-6 1/2) in the triple jumps to surpass the qualifying marks of 5.40m (17-8 3/4) and 11.80m (38-8 3/4) respectively.
Taylor, producing one of the most outstanding performance at the trials, also showed some versatility as she soared over the 100m hurdles in 13.90 to finish second behind Sasha Wells, the winner in 13.60. They both attained the qualifying standard of 14.20.
Also of note at the trials were Edward Kemp and Serena Brown in the under-18 boys and under-20 girls shot put and discus.
Kemp, who had previously qualified in both events, fell short when he won the shot put with a toss of 15.23m (49-11 3/4). The qualifying mark was 15.25 (50-0 1/2). In the discus, he did 54.51m (178-10), but was off the standard of 57.00m (187-0).
Brown, on the other hand, cleared the qualifying mark of 41m (134-6) with a winning heave of 44.30m (145-4) in the under-20 girls' discus, but she missed the qualifying mark of 14m (45-11 1/4) in the shot put with her toss of 12.51m (41-0 1/2). Last year, Brown got a bronze in the under-18 division in the discus.