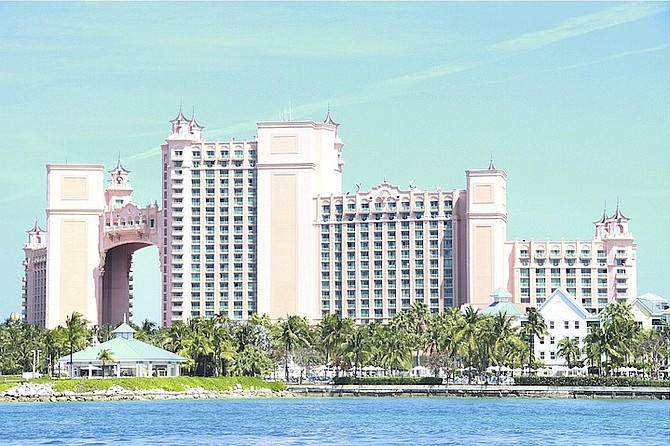 By SANCHESKA BROWN
Tribune Staff Reporter
sbrown@tribunemedia.net
THIRTY mid-level managers at the Atlantis resort on Paradise Island were laid off yesterday, Director of Labour Robert Farquharson confirmed.
Mr Farquharson told The Tribune that the layoffs were in preparation for a $30m renovation at the Coral Towers scheduled for the beginning of May. He said he had spoken with Atlantis executives last week, who informed him of the impending redundancies and promised to utilise the other 400 employees in other areas of the resort.
"The Department of Labour met with the CEO and senior vice-president of Atlantis last week and they advised us that beginning in May this year they will commence a $30m renovation of Coral Towers," Mr Farquharson said.
"That tower has 450 staff members, but we have been assured that virtually all of the staff will be utilised in other areas of the hotel and in the construction phase.
"Only 30 mid-level managers were made redundant and they have written to us and advised us of what their entitlements are. We let them know if they have any concerns that they can come and speak to us and we will let them know what their rights are.
"We can also seek employment for them because there are a lot of vacant positions for managers in the hotel industry and we can help them."
However, in a statement issued to Tribune Business, Atlantis said the redundancies - a result of a planned review of its management structure - were necessary to allow its business to grow and provide the capacity to reinvest. "As a result, consolidations have taken place over the past several months, both in Fort Lauderdale and locally, resulting in several management positions being made redundant. The consolidations were primarily at the management level," Atlantis said without indicating how many jobs had been lost.
Mr Farquharson said the Coral Towers renovations are expected to be completed by the end of the year.
The lay offs of more than 2,000 Baha Mar employees last October contributed to a 2.8 per cent increase in the country's unemployment rate pushing the national figure to 14.8 per cent, officials from the Department of Statistics said in December.
According to the latest Labour Force Survey, both New Providence and Grand Bahama experienced increases in their unemployment rates, which now stand at 15.9 per cent and 14.2 per cent respectively.
The youth unemployment rate now stands at 30 per cent, nearly five per cent more than the 25.3 per cent recorded in May's survey. The survey noted that young people between the ages of 15 to 24 continue to face a considerably higher rate of unemployment than any other group.
On March 8, hundreds of job seekers lined up outside Club Luna on West Bay Street, some as early as 3am, to apply for vacant jobs at a Pearl Island job fair. At the time, a Pearl Island official said the development only had 75 positions and that a number of them had already been filled.