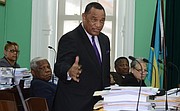 By KHRISNA VIRGIL
Tribune Staff Reporter
kvirgil@tribunemedia.net
PRIME Minister Perry Christie yesterday said United States Chargé d'Affaires Lisa Johnson would have to speak on whether the government made numerous interventions with US officials regarding America's willingness to accept two Cuban men held unlawfully in prison for three years.
Mr Christie suggested that Ms Johnson would be able to verify the government's attempts to have the Cubans sent to another country while they were being detained.
Speaking in the House of Assembly, Mr Christie was adamant that he never misled Parliament about the men, adding that he also met with US Secretary of State John Kerry on the matter to express serious issues with The Bahamas having to hold the men in this country when their initial intent was to enter the United States.
The matter was raised yesterday by Fox Hill MP Fred Mitchell, who was attempting to respond to accusations made by Fort Charlotte MP Dr Andre Rollins who asserted that the prime minister or Mr Mitchell was not transparent when they spoke on the matter several weeks ago.
Last month, the Supreme Court freed Carlos Pupo and Lazaro Seara Marin after they were held in prison for three years without being charged. After their release, Mr Mitchell said they were national security risks.
Mr Christie previously told the House that he had petitioned several countries to accept Cuban nationals, including the US and Cuba who did not want to take the men.
Mr Christie said: "I am advised that when a sighting was made of the individuals in Bimini (after their release) we had again made representation to the chargé d'affaires to reaffirm the position that efforts were being made ostensibly to smuggle them into the United States of America. I make no allegations as to who and why but as prime minister I wanted to confirm that the Americans were taking the same position and the person we have to speak to is in fact the Chargé d'Affaires, Ms Lisa Johnson.
"Since that time, Mr Deputy (Speaker) I have made very strong observations and critical commentary at the highest level of the United States government with respect to my being able to access that level.
"Mr Speaker, if the member would wish to know I don't speak about the extent to which I have discussions on national security matters. We met with the chargé d'affaires and the subject was a matter that came up too.
"The chargé d'affaires would have to speak to the matter, I presume. We speak on all matters to do as prime minister and national security."
Yesterday's session also involved an exchange between Mr Christie and Dr Rollins over why the MP had not been appointed to Cabinet when he was a PLP MP. Mr Christie said he told Dr Rollins he couldn't place him in Cabinet because he needed to establish himself.
To this, Dr Rollins shouted that he told Mr Christie he did not want a Cabinet post and this was the best decision he had ever made. Dr Rollins joined the Free National Movement last year.