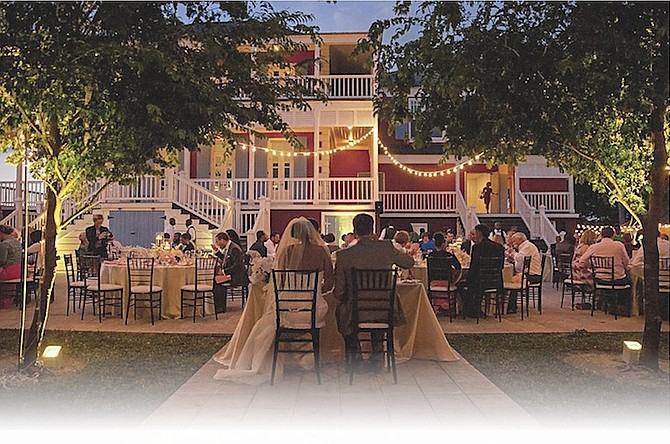 By JEFFARAH GIBSON
Tribune Features Writer
jgibson@tribunemedia.net
ANY couple tasked with planning their own wedding can attest to the fact that there is a certain level of stress that comes along with the process.
And sometimes having to ensure that everything is in place can cause couples to become frustrated, taking away from enjoyment of what should be a purely pleasurable experience.
Davrielle Burrows, an established Bahamian wedding planner, has made it her goal to remove the stress and create the magic every time she is entrusted to plan one of the most special and memorable occasions in a couple's life.
Through her company, The Wedding Bee, Davrielle said she is able to make the dreams of brides and grooms come to life.
While The Wedding Bee has only been around for a few months, the 25-year-old has been planning weddings since she was a teenager.
"I worked on weekends with my aunt, Bernadette Burrows," Davrielle told Tribune Woman. "That experience really sparked a passion for weddings and events that I couldn't shake and provided me with valuable insight into the industry. In college, I got a job as an event coordinator for our student association and I really enjoyed that process as well. Informally, I've worked on dozens of events and conferences for girls group initiatives as well as large-scale church functions. I have a Bachelor's degree in Communication and I've worked in management for several years. I love working with people and I believe every bride deserves to have the stress-free day of her dreams, and I'm committed to making that happen for every bride," she said.
Davrielle also found herself being a wedding planner by default when several friends of hers got married.
"Pretty much any friend of mine who was getting married had full use of my skills and knowledge of the industry; and it was my pleasure. Over time I came to appreciate the value I could offer every bride and use these skills to start a business," she said.
"Also I have noticed over the years that regardless of who it is, every wedding has a point person, unfortunately however, more often than not that person is the bride or some other invited guest who is unable to enjoy themselves on account of being busy the entire time, which usually leads to frustration on both parts. The bride is frustrated because the person she's asked to help her treats her like she's doing her a favour, because she is, and the loved one usually gets frustrated because they miss the opportunity to experience the day.
This is where The Wedding Bee comes in, offering a full service planning and specialising in "day of coordination".
"What that means is for the bride who feels most comfortable booking her own vendors and making her own plans I simply manage the logistics of her day and leave her and her loved ones to enjoy themselves stress free, which presents a more cost effective option and greater autonomy for brides," she said.
"The event industry is very exciting, but it can also be very stressful. Weddings have tons of moving parts and staying on top of every little detail is extremely challenging. Weddings are also very costly by nature, so you're dealing with clients who have very high expectations. If just one item is out of place it can throw off the whole event, so it's a high-pressure job," she said.
After the stress and pressure subsides, Davrielle said one of the most wonderful things is seeing what a couple envisioned materialise on their wedding day.
"Seeing a satisfied bride enjoying her day really warms my heart. For brides, a wedding can be an almost magical occasion, but for many the magic gets lost in the stress of constant planning, managing details and shelling out money. I like the idea of being the one who removes the stress factor from the equation so they can enjoy their special moment along with their family and friends. It almost makes me feel like a fairy godmother of sorts."
"At my most recent wedding the groom approached me about a month prior to the wedding and told me that he and his mother had a special dance prepared, but that he wanted it to be a complete surprise to everyone, including the bride. He and I went back and forth about where it would be best placed in the evening, and I told him that I would make sure it came at just the right time. When the moment came, all of the guests, catering staff, even the event space security, watched them mesmerised as he and his mom danced for about 15 minutes straight to songs ranging from 'Uptown Funk' to 'Gangham Style', so that was pretty exciting," she said.
Planning weddings makes Davrielle dream of her own one day.
When her time comes, she said, she will have enough experience and ideas that she may only need minimal help from a planner.
"I do hope to be married some day and I plan to have a major say in most of my bookings, but I will still hire a wedding planner, at very least a day-of coordinator to ensure I can have the same stress-free experience that I offer my brides. As per the details, I have lots of ideas. My wedding board on Pinterest is growing every day, but I try not to get too specific as I would want my wedding to be a reflection of the man I would marry as well, so I'd rather cross that bridge when I get to it. I do know that I would really love something outdoors and I find myself very drawn to warm tones and the colours of the ocean," she said.