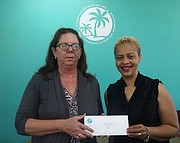 As a part of its ongoing commitment to support Bahamian non-profits providing learning opportunities to the community, the Lyford Cay Foundations recently gave a $5,000 grant to the Cancer Society of the Bahamas to assist in funding the Freedom Kids Programme.
The Freedom Kids Programme is a multidisciplinary education and awareness programme dedicated to providing ongoing and practical support for children living with cancer and sickle cell. The programme includes monthly education workshops on the diseases, healthy lifestyle choices and medical management, arts and crafts, physical play, and group support to facilitate healing and coping. Additionally, a community outreach component will focus on cancer education and awareness in primary schools.
Lyford Cay Foundations said they are proud to partner with programmes such as Freedom Kids who address an important need in our community.