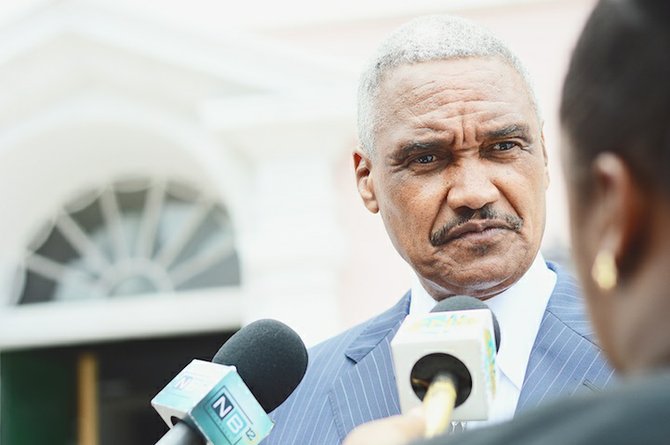 http://youtu.be/PklIm9Zns-A
By KHRISNA VIRGIL
Tribune Staff Reporter
kvirgil@tribunemedia.net
TALL Pines MP Leslie Miller has forcefully denounced the growing transgender community in this country while urging people to financially contribute to having this sect of society exiled to their own private island to ensure "they stay out of the way" of generations of Bahamians who are depending on the success of the June 7 referendum.
While pledging to give the group its first $1,000 toward this relocation, Mr Miller told The Tribune that it was his constant prayer that "God would come now and just end the world" as their actions "go against His will".
The former minister of trade and industry also dismissed the concerns of Bahamas Transgender Intersex United (BTIU), which last week made its debut at a press conference calling for equal rights for transgender Bahamians.
In response, Mr Miller said: "If you want to like man, that's your damn business but don't try to impose your will on other people."
He told this newspaper that he was of the view that members of the transgender community were currently being treated equally because "they are men therefore you go and live like a man, you are a woman (so) you live like a woman." This he said was equality in the eyes of God.
BTIU representatives have called on the Christie administration to ensure that the fundamental rights of all genders of Bahamians - male, female and transgender - are protected.
"I have children and grandchildren and we (are in) a society that is already fractured with all the damn crimes and things that are happening in our country," Mr Miller said when contacted for comment. "Why is it that everybody has to have their own way in our country? We are supposed to be a Christian nation and all you got is fighting between one church and the next.
"These transgender, or whatever you call them, is against the will of God so why would we as a people want to go against the will of God to have these people say what they want from what they don't want. You are either a man or a woman.
"God should hurry up and come and get this over and done with so we don't have to worry about them. Just come stop the world."
He continued: "If God sent you here to repopulate the world for us to live in society in harmony and in peace, (why) you have people who don't want to produce any babies and who don't have the capacity to produce children? What purpose do they serve here on this earth? Tell me what purpose they serve? Man can't make babies with man (and) woman can't make baby with woman. What purpose (do) they serve?"
Asked if he believed that the public opinion on the transgender and gay communities could affect the outcome of the referendum that seeks to ensure both men and women have equal rights in the Constitution, Mr Miller said they should keep their "sadistic" and "sordid" actions to themselves.
He added that if Bahamians allowed the views of a small group to cause the vote to be unsuccessful, it would be the electorate's fault.
According to BTIU spokesperson Alexus D'Marco, there are more than 50 transgender male, female and youth living in the Bahamas.
"So what do we do? Just give them some place where they could go and (be) safe," Mr Miller said. "Everybody make a contribution (to) put them on a nice island and just play with each other for the rest of their lives if that's what they want to do.
"Because they ain't going to make babies. So soon they'll die. You got to be able to produce to have the next generation so that will be the last generation of them.
"I will be the first one to make a contribution to them. I'll give them $1,000 right now. Build them a nice beautiful setting on a nice cay and say this is Eden right there and they go right there. To us it would be Sodom and Gomorrah, but to them it would be Eden. Put them in Eden with beautiful flowers and beautify the place. This has got to stop. When is enough, enough, man?"
Question four of the upcoming referendum, which has been the source of heated debate and much opposition, will ask voters to eliminate discrimination based on sex in the Constitution by inserting the word "sex" into Article 26.
Some critics think that this could one day lead to same-sex marriages, but the government has denied this as a possibility and stressed that the focus is solely on gender equality.
BTIU representatives have said they aren't looking to shift the focus of the referendum, but they want to use the national conversation on equality to be all encompassing.
BTIU has stressed that there are no laws to protect transgender and intersex Bahamians.