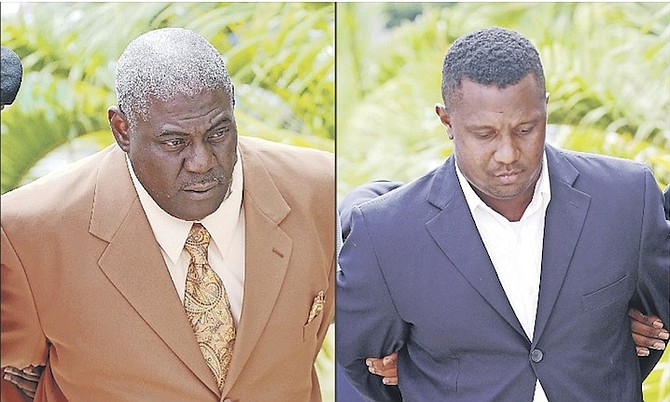 By LAMECH JOHNSON
Tribune Staff Reporter
ljohnson@tribunemedia.net
TWO former policemen who took advantage of their former positions to commit theft may spend 18 months in prison if they fail to pay a $3,000 fine imposed on them by a magistrate.
Within hours of their dismissal from the Royal Bahamas Police Force, ex-Constables Ricardo Bain, 44, and Herman Pinder, 31, appeared before Magistrate Andrew Forbes to face stealing and receiving charges stemming from a break-in at the Bahamas Telecommunications Company's (BTC) JFK location in the RND West Plaza.
Magistrate Forbes, after the pair admitted guilt, expressed his perplexity at the poor judgment of Bain and Pinder who served 26 and seven years respectively on the force.
"I'm always lost for words when I have persons, who have been designated with the principal responsibility of the protection of Bahamian society, finding themselves before me charged with such facts," Magistrate Forbes said.
"I cannot quite grasp how two officers who had been attending an alleged break-in made the decision that they were going, rather than investigate the break-in, instead help themselves to (the) merchandise in the store.
"How does one go from 'I'm here to engage in protecting and serving the public' to 'I'm going to enrich myself'? How does one make that leap mentally?"
"I'm sitting here trying to grasp that. How did two senior officers come to that decision?"
"An officer of 26 years experience on the police force makes that decision? Not the decision that 'I will call in senior officers to ascertain whether or not (the) Scenes of Crime Unit needs to come in, take fingerprints, photographs, see whether or not suspects might still be in the area. No. I'm going to remove the cell phones out of the establishment. And here we are before a court not as witnesses in a criminal matter but defendants in a case."
The judge added: "And for what...$435 worth of phones you've lost your careers? You've lost the respect of your colleagues and face the possibility of going to prison."
Police prosecutor Supt Ercell Dorsett told the magistrate that the officers were dispatched to investigate a break-in at the store in the RND Plaza on Thursday night, April 29.
The officers, instead, allegedly helped themselves to three Samsung J1A cell phones which they stuffed in their bosom area. The alleged theft was captured on the store's hidden cameras.
"They were confronted but they denied doing so. It was not until they were confronted with surveillance that they acknowledged it," the prosecutor said.
Devard Francis, lawyer for Pinder, told the court that his client had not wasted the court's time.
"He is remorseful and contrite for his actions," the lawyer said, further stressing to the magistrate that Pinder was the breadwinner for his family.
"Everyone has made mistakes and I'd ask you to temper justice with mercy," Mr Francis added.
Maria Daxon, lawyer for Bain, said her client is remorseful for his actions and knew "he made a bad judgment call."
"I'm asking the court to be lenient. These men have served this country for years," Ms Daxon stressed.
Magistrate Forbes said the sole mitigating factor in their favour was their lack of antecedents and pending matters before the court.
"What is certainly aggravating is the defendants are former police officers who ought to have known better," the magistrate stressed.
Notwithstanding this, the magistrate said an immediate custodial sentence was not a fitting punishment for their actions.
He ordered that they each pay a fine of $3,000 by Friday or spend 18 months at the Department of Correctional Services.
"The reason I'm imposing the fine is perhaps you will financially recognise your behaviour was reprehensible," the magistrate explained, stressing that they caused embarrassment to the RBPF and potentially diminished society's trust in the law enforcement agency.