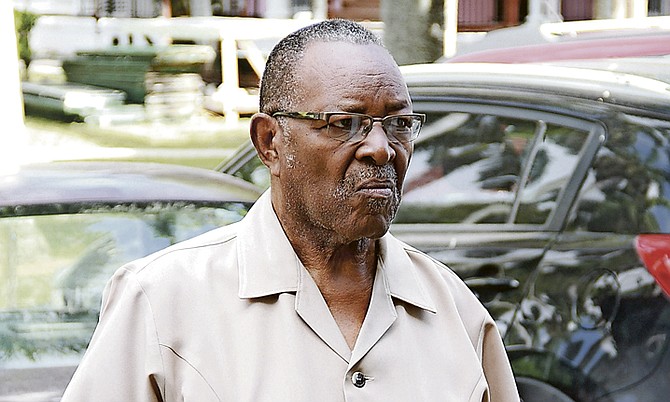 By LAMECH JOHNSON
Tribune Staff Reporter
ljohnson@tribunemedia.net
FREDDIE Solomon Ramsey faces a $10,000 fine and four years in prison after a jury convicted him last night of multiple bribery related charges stemming from the Alstom SA/Bahamas Electricity Corporation (BEC) scandal.
The 79-year-old insurance executive was stoic when the jury's four not guilty, 14 guilty verdicts were announced some three and a half hours after Justice Bernard Turner excused the nine member panel to deliberate on evidence alleging that French company Alstom SA paid more than $300,000 to a BEC board member to influence the awarding of the New Providence Phase Two and Three contracts between 1999 and 2003.
When asked by the judge if there was any reason why sentence should not be passed against him, his lawyer, Wayne Munroe, QC, said there was.
The attorney asked the court to arrest the jury's verdicts pending the outcome of a hearing on Article 28 of the Constitution on the argument that
certain documents essential to Ramsey's preparation for defence at trial were not disclosed.
Mr Munroe said there was no prejudice in extending Ramsey's bail considering his client's medical circumstances that could be verified in a social inquiry report produced for the court's consideration.
Justice Turner said that he would, in the circumstances of Ramsey's age and other "apparent personal circumstances", extend the $40,000 bail bond ahead of the May 12 constitutional hearing.
However, Ramsey was ordered to surrender his passport to the Supreme Court at 10am Wednesday. He must also report to the Elizabeth Estates Police Station on May 6 and May 9, on/or before 6pm.
"I will accede to your application but it is not to be taken that the court will not impose a custodial sentence should it come to that point," the judge stressed.
Ramsey was acquitted of two counts of conspiracy to commit bribery and two counts of bribery concerning the Phase Two contract. However, he was convicted of two counts of conspiracy to commit bribery and 12 counts of bribery concerning the Phase Three contract.
In yesterday's summation of the evidence, Justice Turner firstly addressed statements made by Mr Munroe during his closing address to the jury last Friday.
Mr Munroe on Friday described his client as a "scapegoat" who, he said, was set up by Mark Smith who played on his client's prior relationship with Smith's father to further his own agenda.
He said that the average individual would not believe that a small country could be bullied by an OECD country that blacklisted The Bahamas during the period that the Inter-American Development Bank DA-12 contract was being decided.
"But nice white people don't do that. It's that mindset that we have. It's a bad mindset," Mr Munroe said on Friday.
Justice Turner yesterday cautioned the jury concerning such statements.
"In as much as counsel referred to those issues, whether the prosecution has proved its case beyond a reasonable doubt has nothing to do with gender issues, race or corruption. Put all those things out of your mind and focus on the evidence in this case and only the evidence. You are to be detached, objective and critical," the judge said.
"I would also like to remind you that this (case) has nothing to do with any political persuasion. Contrary to belief, there's one government of the Commonwealth of The Bahamas, no matter what political organisation may have been affiliated.
"This matter is about whether or not the prosecution has proven its case against the defendant. That defendant is here, Freddie Solomon Ramsey," the judge stressed.
The 18 charges against the accused – four of conspiracy to commit bribery and 14 of bribery – concerned the New Providence Expansion Phase Two and Three contracts.
It was alleged that Ramsey, being concerned with others, did conspire "solicit, or accept any advantages as an inducement to, or reward for, or used influence in procuring" for ABB Generacion and Alstom SA in the New Providence Expansion Phase Two contract with BEC between 1999 and 2003.
It was further alleged that Ramsey, on seven occasions during the same period, solicited and received a total of $321,107.81 in bribes from Alstom SA, formerly ABB Generacion.
"The verdicts on each count may not be the same," Justice Turner said yesterday.
"You may find there's evidence of soliciting but not accepting. Soliciting and accepting are individual concepts," the judge said before the jury retired to deliberate.
"They say Fred Ramsey was concerned together with others. If you accept the evidence, one of those others is principally Mark Smith. Smith speaks of others as Jose Rodriguez, Mark Contin and Abel Santamaria, officials from the Alstom company," the judge said.
During trial, Smith alleged that Ramsey struck a deal that allowed him to receive a fraction of some $600,000 as a paid informant for the French company.
Smith has received immunity from prosecution notwithstanding his admission that he accepted a cut of hundreds of thousands of dollars to relay to Alstom SA information gathered by an insider to the tendering process that would bolster the French firm's chances of winning the contract bid over its South Korean rival, Hanjung.
Smith said this occurred through a consultancy arrangement between his company and Ramsey, then partner of Caribbean Supplies Bahamas Ltd (CSBL) and a member of the BEC board.
The kickbacks were allegedly deposited to Ramsey's US Bank Atlantic account.
It was revealed in court by Smith that Alstom SA had written letters intended for then Prime Minister Hubert Ingraham and then Deputy Prime Minister Frank Watson as the company wanted BEC officials to reconsider the bid it felt was going to be rejected.
The jury also saw a letter Alstom SA received from then BEC Assistant General Manager Patrick Hanna in December 2000, who took issue with the French company's attempt to discredit another bidder or the evaluation process and noted that the letters "are in direct contravention of the tender process".
Inspector Deborah Thompson, of the Central Detective Unit, testified that Ramsey denied having any involvement in the bribe scheme during an interview in which 101 questions were put to him in the presence of his then lawyers Roger Minnis and Khalil Parker.
Justice Turner, in his summation yesterday, noted that former BEC executives confirmed that Ramsey served "as a member of the board from January 1, 1998 through to the end of 2000."
The judge further noted that section nine of the Prevention of Bribery Act notes that lack of intention is not an excuse for receiving monies connected to bribery.
"Counsel for the accused said there's no contest that monies were deposited to the account. They, in cross-examination, put it to the witness that this money was in fact commissions for work that CSBL did throughout the world. Smith said this is not so. Smith said the money was deposited for Ramsey's assistance in securing the contract," the judge said.
"In this case, Mark Smith has received immunity from prosecution, meaning he cannot possibly gain anything further from giving evidence. It does not, however, eliminate danger of such a witness giving false evidence," the judge cautioned.
Justice Turner noted that the jury did not have the benefit of being provided details of Smith's immunity and the extent of information rendered to the authorities, other than his cooperation and admission that he was an accomplice, party and conduit to bribery.
He also said there was no direct or documented proof of Smith calling or faxing Ramsey concerning the allegations.
He also advised the jury to be practical when considering the issue of immunity with the evidence itself.
"If you're not sure Mark Smith is an honest witness, not speaking the truth or is a reliable witness, then you ought to reject his evidence," the jury was told.
Garvin Gaskin, acting director of public prosecution, prosecuted the case with the assistance of Cordell Frazier.
Ramsey was represented by Mr Munroe, Tommel Roker and Bridgette Ward.