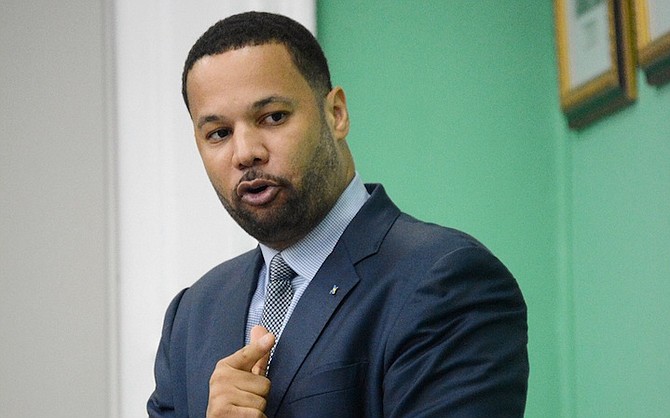 By KHRISNA VIRGIL
Tribune Staff Reporter
kvirgil@tribunemedia.net
FORMER Deputy Prime Minister Frank Watson defended Fort Charlotte MP Dr Andre Rollins amid criticism levelled against the member of Parliament over leaked emails, which revealed he recommended to FNM Leader Dr Hubert Minnis that Dr Duane Sands be appointed to the Senate.
Dr Rollins also suggested that Dr Minnis remove Senator Kwasi Thompson from the upper chamber.
Mr Watson told The Tribune yesterday that he saw nothing wrong with Dr Rollins' suggestion because the MP is a serving member of the FNM team. He said Dr Rollins is entitled to have a view and state it to the party's leadership.
Dr Rollins' recommendation, he said, was one that he had made "about a dozen times."
The former minister of national security did however admit a growing sense of discomfort over the privacy of emails that are sent among party executives.
He also maintained that the party's convention should be held earlier than the planned November date, but would not go into any details regarding the internal state of the organisation, only saying "there needs to be a different approach."
"The only thing out of line is (the emails) shouldn't have been in the media," Mr Watson said when he was contacted.
"You've got a telephone. You can call. You can talk in a meeting. You can do anything.
"Everybody knows that emails are not safe. I don't see anything wrong with him making (a suggestion). He is a member of Parliament and by extension a member of the team. I don't see anything wrong with him making a suggestion."
He added: "Rollins was well within his purview to make a recommendation. It's one I have made about a dozen times, so good luck to him."
It comes as critics have accused Dr Rollins of being out of order for advancing his opinion to the party's leader. Among them is former FNM Cabinet minister Tennyson Wells who has said in his 30 years of front-line politics he did not recall anyone writing to the leader about Senate appointments.
In the chain of emails that came to light earlier this week, which included the personal views of several FNM members of Parliament, Dr Rollins suggested that Dr Sands replace Senator Thompson in the upper chamber.
Dr Rollins said it was his respectful view that as Senator Thompson would not be seeking a nomination for the 2017 election, Dr Sands would be an ideal candidate in the Senate to "bring the fight" to the Progressive Liberal Party.
Several FNM MPs, including Long Island MP Loretta Butler-Turner, St Anne's MP Hubert Chipman, Central and South Abaco MP Edison Key and Montagu MP Richard Lightbourn responded in the email chain expressing support for the decision. Some of the replies in the email chain appeared critical of the party's leadership.
In response to this revelation, former FNM Chairman Darron Cash was adamant that a "clean up" must take place, as the party could not contest the next general election with "splintered leadership".
An early convention, Mr Cash said, was the only credible solution to the "current morass" the party now faces. He said anyone who disagreed with this is "deluding" themselves.