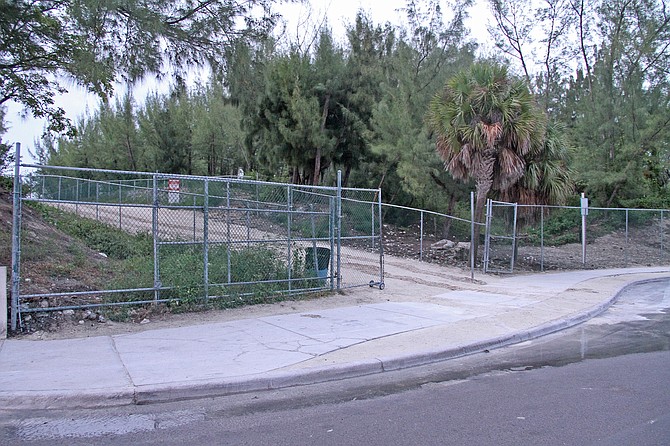 By RICARDO WELLS
Tribune Staff Reporter
rwellls@tribunemedia.net
LEGAL counsel for the Cabbage Beach Business Owners Association (CBBOA) on Friday said they were awaiting Supreme Court Justice Bernard Turner's written ruling to determine the best way forward in their bid to guarantee access for vendors to the popular Paradise Island beach.
Justice Turner on Thursday sided with Access Industries, the landowners, over the dispute over whether vendors had a right to work on the beach.
According to Halston Moultrie, legal representative for the CBBOA, Justice Turner acceded to a summons put forward by legal counsel for Access Industries, suggesting that the association did not hold the legal position to file an injunction or block the property's owners from restricting vendors.
The summons insisted that the association did not have the right to exist because vendors were not employees hired by property owners but each operator was contracted to provide a service. Access Industries is further charging that those vendors signed agreements giving the property owners the right to cancel the contracts at any time.
In 2014, the ownership of the Cabbage Beach property was transferred from Atlantis (Brookfield) to a subsidiary of Access Industries, the One&Only Ocean Club. Prior to the sale of the property, Atlantis (Brookfield) had allowed access to the beach via an easement through their private property; however, the company had petitioned the government on several occasions to address the unregulated vendor operation there.
In early December the vendors association filed an injunction in the Supreme Court to prevent Access Industries from restricting access via the easement. Subsequently, a 30-day injection was put in place. Further applications were made to get that injunction extended, but motions were eventually denied, allowing Access Industries the leeway to erect a fence to restrict access to the beach atop its property.
Mr Moultrie on Friday said he was not able to properly advise his clients on the best way forward. He explained that without Justice Turner's written ruling in hand, he and other legal representatives for the CBBOA were unable to plot the proper course of action, stating: "We need to know his exact reasoning before we take our next step. We know he sided with them, but we need to know clearly why."
Mr Moultrie Told the Tribune that there are two courses of action facing the CBBOA; to appeal or for individual vendors to petition the court to have access granted.
An appeal is expected to be filed if Justice Turner's written ruling is not backed by legal claims beyond those of Access Industries.
If it is, Mr Moultrie is expected to lead single petitions by each vendor, sustaining that if the CBBOA does not have the legal right to block the closure, with vendors being viewed as businessowners should.
Justice Turner's written ruling will be presented on Tuesday.