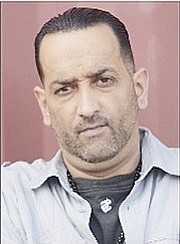 By Inigo 'Naughty' Zenicazelaya
Today is my 18-year anniversary as a professional stand up comedian and as the house comic at Jokers Wild, Atlantis.

I must thank God first and foremost for blessing me with the talents and career longevity.
Secondly I must thank my beautiful wife Jamie for her unwavering love and support over the years, and of course for being an objective critic and pretty much my conscience for my new material.
I'm quite sure if I didn't heed her constructive criticism over the years I would be on the wrong end of a law suit.
Thirdly, I can't forget my late grandfather K M Thompson for my sense of humour and gift of the gab, my late mother, Marlene, for her unconditional love and encouragement to pursue my dreams and to always work hard in pursuit of my goals.
My Aunt Kay, for teaching me how to be fearless and how to use my mouth as a weapon of mass destruction if needs be.
And finally my father, Daniel, for being so serious all the time. I had no choice but to be the complete opposite.
Last but definitely not least I must thank the management and staff of Jokers Wild, as well as the comedy fans both local and foreign for their support over the years.
Here's to another 18!
I only think it's fitting to see what great moments in sports history happened on this day, since sports has always been a big part of my act and life. Here we go!
MAY 10 GREAT
SPORTING MOMENTS
1870: Jem Mace defends his heavyweight crown against Irish champ Joe Coburn. The fight lasts one hour and 17 minutes and neither is struck by a punch
1893: 17th Preakness Stakes: W Anderson aboard Buddhist wins in 2min 17.5sec
1893: 19th Kentucky Derby: Eddie Kunze aboard Lookout wins in 2:39.25
1905: 31st Kentucky Derby: Jack Martin aboard Agile wins in 2:10.75
1910: Kentucky Derby: Fred Herbert aboard Donau wins in 2:06.4
1913: 39th Kentucky Derby: Roscoe Goose aboard Donerail wins in 2:04.8
1919: 45th Kentucky Derby: Johnny Loftus aboard Sir Barton wins in 2:09.8
1926: 51st Preakness Stakes: John Maiben aboard Display wins in 1:59.8
1929: 54th Preakness Stakes: Louis Schaefer aboard Dr Freeland wins in 2:01.6
1929: 64th British Golf Open: Walter Hagen shoots a 292 at Muirfield, Gullane
1941: 66th Preakness Stakes: Eddie Arcaro aboard Whirlaway wins in 1:58.8
1946: Red Sox win 15th straight game, beat Yankees 5-4, DiMaggio hits Grand Slam
1947: 72nd Preakness Stakes: Doug Dodson aboard Faultless wins in 1:59
1953: Betsy Rawls wins LPGA Sacramento Golf Open
1959: Joyce Ziske wins LPGA Howard Johnson Golf Invitational
1964: Mickey Wright wins LPGA Squirt Ladies' Golf Open Invitational
1967: Foundation AZ soccer team forms in Alkmaar, Netherlands
1967: Hank Aaron hits the only inside the park home run of his career (for Atlanta Braves v Jim Bunning)
1970: Betsy Rawls wins LPGA Dallas Civitan Golf Open
1970: Bobby Orr scores one of the most famous goals in ice hockey history, an overtime goal that gives the Boston Bruins its first Stanley Cup since 1941
1973: NBA Championship: NY Knicks beat LA Lakers 4-1
1973: Stanley Cup: Montreal Canadiens beat Chicago Blackhawks, 4-2
1978: 22nd European Cup: Liverpool beats Club Brugge 1-0 in London
1979: John McMullen becomes CEO of Houston Astros
1981: Amy Alcott wins LPGA Lady Michelob Golf Tournament
1981: Montreal Expo Charlie Lee no-hits San Francisco Giants 4-0
1987: Jody Rosentha wins LPGA United Virginia Bank Golf Classic
1989: Spain's FC Barcelona win 29th European Cup Winner's Cup against Sampdoria, of Italy, 1-0 in Bern
1989: NHL Clarence Campbell Conference Final: Calgary Flames beat Chicago Blackhawks 4-1
1991: NHL Clarence Campbell Conference Final: Minnesota North Stars beat Edmonton Oilers 4-1
1992: Jennifer Wyatt wins LPGA Crestar-Fresh Farm Golf Classic
1993: Bill Walton inducted into the Naismith Memorial Basketball Hall of Fame
1995: Real Zaragoza, of Spain, win 35th European Cup Winner's Cup against Arsenal, of England, 2-1 in Paris
1997: Chicago Cubs turn baseball's 68th triple play (v San Francisco Giants)
2002: Anaheim Angels crush the Chicago White Sox 19-0. The Angels join the 1923 Indians, 1939 Yankees and 1950 Red Sox as the only teams to beat two opponents by 19 or more runs in the same season
2013: Joe Sakic is hired by his former team, the Colorado Avalanche, as Executive Vice President of Hockey Operations
And finally on this day in 1933, the late NFL Hall of Fame member and broadcasting legend Pat Summerall was born in Lake City, Florida.
Until next week, play hard until you hear the whistle.
• Inigo 'Naughty' Zenicazelaya is the resident stand-up comic at Jokers Wild Comedy Club at the Atlantis, Paradise Island, resort and presents 'Mischief and Mayhem in da AM' from 6am to 10am, Monday to Friday, and 'The Press Box' sports talk show on Sunday from 10am to 1pm on KISS FM 96.1. Comments and questions to naughty@tribunemedia.net