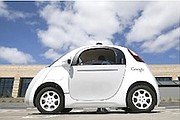 FIAT Chrysler Automobiles (FCA) chief executive Sergio Marchionne says working with Google convinced him that self-driving technology is closer than he thought and could be on the road in five years.
"I don't find it that unsettling," Mr Marchionne said. "I see this as having tremendous use in real life."
FCA and Google announced a partnership last week, working together to add self-driving technology to 100 Chrysler Pacifica minivans for testing purposes.
It is the first time Google has worked directly with an auto company to install self-driving sensors and computers.
Some automakers have been reluctant to team up with tech companies because they want to own the technology in their cars. But Mr Marchionne says it's too early to say who will lead the transition to a self-driving future, so it's smart for FCA to work with others and learn what it can.
Mr Marchionne said FCA and Google will have to work out specifics, like who owns the data in the cars. "We need to get to the stage where the car is viable before we can discuss the spoils," he said.
The FCA CEO said it was initially unsettling to get into Google's self-driving test cars in California, but as he rode in them he felt "absolutely safe". "You could almost feel the reasoning process that the car was going through," he said. "It's like watching a robot execute, and it executes well."
The experience left him feeling that self-driving cars have great potential, he said, as long as regulators establish rules for their use.