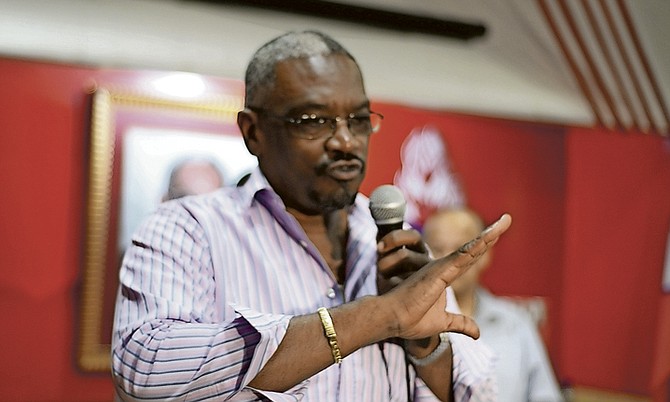 By NICO SCAVELLA
Tribune Staff Reporter
nscavella@tribunemedia.net
FNM Leader Dr Hubert Minnis yesterday criticised the Christie administration for allegedly giving employment opportunities to a "chosen few" in society, charging that the country's unemployment rate is largely due to the government taking "care of their own while the rest of us suffer."
Dr Minnis, in a statement, castigated the governing PLP for "systematically" leaving "ordinary" Bahamians behind on employment opportunities while simultaneously "telling us all that things are going well."
He also condemned the Christie administration for "failing miserably" at reducing unemployment – particularly youth unemployment, further charging that the government has "sat idly by and allowed the Bahamian economy to shrink for two full consecutive years."
Dr Minnis' statement was in reference to a recent report by the Inter-American Development Bank (IDB), which found that the Department of Labour is finding work for just two per cent of its registered job seekers.
The IDB, lifting the veil on another issue affecting the Bahamas' 30 per cent youth unemployment rate, said the Department of Labour was catching job vacancies from only 12 per cent of listed Bahamian business.
It added that this ratio paled when compared to the 20-40 per cent of companies captured by European Employment Exchanges "at a similar stage of development" and warned that these problems meant job opportunities were not going to the most qualified and best matched Bahamians.
Instead, they were being seized by "the well connected", according to the report, resulting in lower workforce productivity and a society that was far from a meritocracy.
"The (IDB) makes it very clear that under this government it's the people that are well connected that get the work, not necessarily the ones most in need or those most prepared for the jobs," Dr Minnis said. "This is how this government likes it, they have admitted time and time again they take care of their own while the rest of us suffer. How convenient for them and their friends and allies, but how troubling for the rest of the Bahamians."
"The report and the troubling unemployment numbers – with one out of three young Bahamians out of work – means that a whole generation is wondering how they will secure an education, provide for a family, or build a life," Dr Minnis said. "Sadly, this government is systematically leaving them behind while telling us all that things are going well. Yes, going well for the chosen few – them and their friends and families – but not for the rest of us."
Dr Minnis added: "Instead of growing the economy and providing good jobs as they were elected and as they promised to do, the PLP has sat idly by and allowed the Bahamian economy to shrink for two full consecutive years.
" . . . With so many families struggling and communities in economic distress it's unconscionable - but unfortunately not surprising - that we found out that this government is failing to do everything they can to help our people find employment and get the economy growing again.
"This is their main mission and they are failing miserably at it."