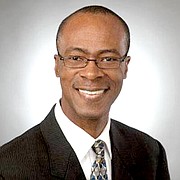 By KHRISNA VIRGIL
Tribune Staff Reporter
kvirgil@tribunemedia.net
PASTOR Cedric Moss has responded to retired Archbishop Drexel Gomez's strong recommendation for the electorate to vote "yes" to each of the Constitutional Amendment Bills, saying he found it hard to see how the archbishop could compel people to support the referendum.
In a press statement, Pastor Moss said Archbishop Gomez seemed not to appreciate that Bahamians are entitled to have another view regarding the proposed constitutional changes.
Last week, Archbishop Gomez criticised some religious leaders for using "suspicion and fear" of same-sex marriage to "mislead" the public and campaign against the fourth Constitutional Amendment Bill.
He said, in a statement, that these church leaders allege, without offering any factual corroboration, that the use of the word "sex" in amendment four can provide a legal "back door" for the authorisation of same-sex marriage in The Bahamas, despite the fact that marriage does not, on any logical reading, form part of the rationale spelled out so clearly in the four amendments.
Pastor Moss said: "I have great respect for Archbishop Gomez as a faithful minister of the gospel, so I take no pleasure in publicly challenging his position on the four bills in question. I do purely out of a sense of duty to contribute to the public discourse in this referendum of monumental importance.
"Regarding the three citizenship bills – bills one, two, and three – with due respect Archbishop Gomez seems not to appreciate that Bahamians are entitled to have another view on these matters, just as he has another view on these matters and had yet another view back in 2002. Why can't Archbishop Gomez accept that in the same way that he in 2002 took what he considered to be a principled position to vote 'no' on all of the bills and campaign for others to do likewise, others today can also have principled objections to one or more of the bills and similarly vote "no" and call others to do the same? Clearly others have the same right in 2016 that Archbishop Gomez had back in 2002."
He was referring to the position Archbishop Gomez took against the failed 2002 constitutional referendum brought by the Ingraham administration, which dealt with gender equality and other issues.
"I find it hard to see how Archbishop Gomez can be virtually compelling people to cast a blanket 'yes' vote to these bills. Does he truly believe the process by which these particular bills were placed before voters and the bills themselves are perfect and there are no reasonable grounds for objection? I know he does not because there are reasonable grounds for objection to both the process and the bills."
He said as it relates to bill four it is regrettable that Archbishop Gomez is oversimplifying a complex issue.
"My first response to his call for me and the other pastors to 'present the Bahamian population with an unequivocal legal path that leads from amendment four to the passage of legislation authorising same-sex marriages' is to similarly call him and those with him to present to The Bahamian people an unequivocal assurance that if bill four succeeds it is guaranteed that it will not lead to same-sex marriage," he said.