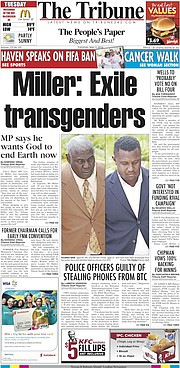 By DR CESAR NUNEZ
INTERNATIONAL Day Against Homophobia and Transphobia (May 17) comes at a critical time for Latin America and the Caribbean.
This year, the world started its 15-year journey toward achieving the Sustainable Development Goals with their emphasis on dignity, equality and security for all. Yet recent events in the region demonstrate that entire communities remain degraded, discriminated against and excluded.
Earlier this month, a Bahamian political party hastily reiterated its commitment to social justice and equity after a parliamentarian told journalists that transgender people should be exiled. In March, three Guyanese transgender women were barred from court because they wore female clothes. Already this year dozens of transgender people have been killed in Brazil. Killings have also been reported in Bolivia and Venezuela.
The Universal Declaration of Human Rights asserts that "all human beings are born free and equal in dignity and rights". In order to truly achieve this, we must overcome prejudice and discrimination everywhere, including in our homes, streets, classrooms, workplaces, clinics, police stations and parliaments.
Social and economic inequalities add layers of vulnerability to people's lives. Imagine what happens when you are rejected or put out of the house by your family; when you are bullied by fellow students or treated differently by teachers; when you are called names or attacked by strangers; when you don't feel comfortable reporting a crime or seeking care at a hospital because of the looks and comments you get from policemen, nurses or security guards.
Here's an idea of the fallout. According to UNESCO almost half of LGBT (lesbian, gay, bisexual and transgender) students in Latin America do not finish secondary school. Global AIDS Response Progress Report data shows that in some countries HIV rates among men who have sex with men and transgender women are as much as 20 times the national average. Globally, there were more than 1,300 reported killings of transgender people between 2008 and 2013. The Inter-American Commission on Human Rights notes that four of every five such murders occurred in the Caribbean.
Discrimination increases the vulnerability of entire communities by driving them away from life-saving services like health. Our words, actions and attitudes really do hurt.
From June 8 to 10, United Nations Member States will meet at the High Level Meeting on HIV in New York to agree on a fast track approach that will allow us to end the AIDS epidemic as a public health threat by 2030. Of course that entails investing more in prevention, testing and treatment. But it also means ensuring that no one is left behind. We need far more than condoms and pills if we are to reach everyone.
People must be held accountable for hate speech, acts of violence and discrimination. National Human Rights Institutions, Offices of the Ombudsmen or Equal Opportunity Commissions should have a mandate to respond to the violence and discrimination faced by LGBT people. Additionally, the LGBT community should have as much access to police stations and courts as every other community.
Anti-discrimination laws that explicitly say it is not OK to treat someone unfairly because they have a different sexual orientation or gender identity are important tools for human rights protection. Also important is removing laws used to arrest, punish or discriminate against people on the basis of their sexual orientation or gender identity.
But beyond legal frameworks and human rights monitoring systems, we have to address the underlying issues of humanity and dignity. As UNAIDS Executive Director, Michel Sidibé has reminded us: "We can only be free when we respect the freedom of our LGBT brothers and sisters."
Dr César Núñez is UNAIDS Latin America and Caribbean Regional Support Team Director