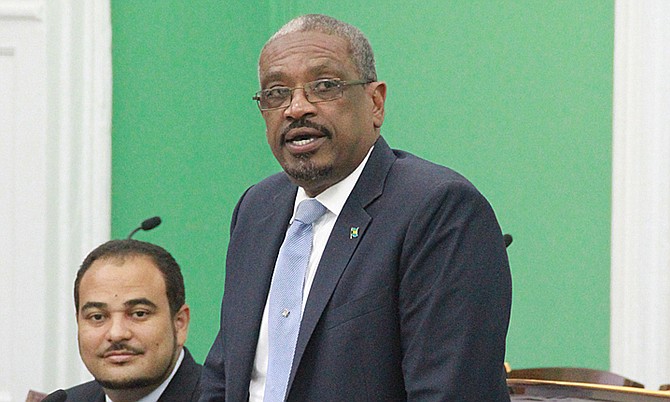 By SANCHESKA BROWN
Tribune Staff Reporter
sbrown@tribunemedia.net
FNM LEADER Dr Hubert Minnis yesterday declared that he would not take a cabinet post if he became the next Prime Minister, instead serving only as the "CEO" of the executive body.
Dr Minnis also pledged to implement a recall policy for Members of Parliament who "do nothing" for their constituents.
On a Guardian radio talk show, Dr Minnis said he would limit the number of MP's who are made Cabinet ministers to ensure that constituencies remain a top priority.
Dr Minnis said under his regime the "entire governing structure will change, from the top down."
"I have stated that in my Cabinet, I will not accept a Cabinet post," he said.
"I will be the CEO of the Cabinet to ensure that everything is done and everyone follows policies. I will ensure there are term limits introduced for Prime Minsters and I will ensure that we have a recall policy."
Dr Minnis said: "My feeling is that once an individual elects you as a member of Parliament you are employed by them and you are accountable to them for five years. You should not return two or three months before an election, having disappeared for four and half years and now ask them to reappoint or rehire you.
"If I was the public I would say 'No, you have not performed for five years and you come back two months before.' I would say 'go to hell'. Members of Parliament will be, there will be some Cabinet Ministers. However, there will be certain guidelines and if they don't they will be dismissed or they will resign.
He said: "I know it is difficult to be in Cabinet and properly run a constituency but it will be aided by a properly defined, functional, local government."
Dr Minnis also shut down rumours that the Free National Movement is falling apart after the resignation of the former Senator Lanisha Rolle last week – the fifth senator to resign under Dr Minnis' leadership.
Mrs Rolle's resignation came after The Tribune published stories this week about an alleged recording in which she made disparaging comments about several FNM MPs, including Long Island MP Loretta Butler-Turner, during a conversation with political hopeful Lincoln Bain.
"There is no chaos in the FNM, this party is a democracy and persons are allowed to speak freely and then at the end of the day we come together and talk," Dr Minnis said.
"The FNM is going through a transitional change and many people are resisting because people are resistant to change. Hubert Minnis represents change, new leadership and new thinking. The thinking of yester-year must change. The FNM becomes stronger and stronger every day."
The FNM is scheduled to have a full convention before November 30.