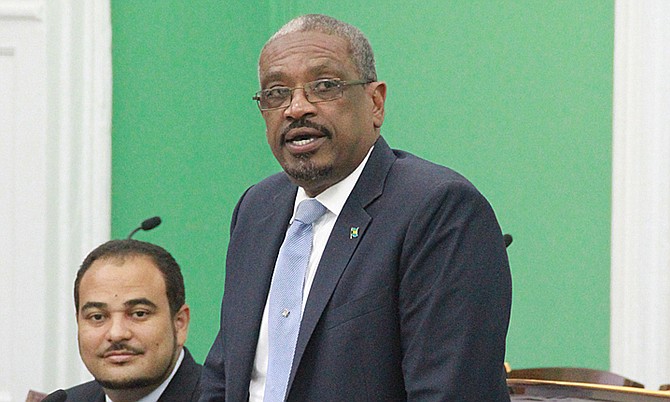 By SANCHESKA BROWN
Tribune Staff Reporter
sbrown@tribunemedia.net
FREE National Movement (FNM) Leader Dr Hubert Minnis yesterday warned Bahamians not to be fooled by Prime Minister Perry Christie's "false hope and fake promises" in relation to the stalled Baha Mar project.
Mr Christie is expected to make an announcement on the $3.5 billion resort in the House of Assembly today.
In a statement Dr Minnis said he expects the Prime Minister to make more "overly optimistic declarations and commitments" without a concrete plan.
"The empty rhetoric which he will offer once again will not get Baha Mar open. Nor will it bring the thousands of jobs this government has promised. But with an election sometime soon Bahamians should expect to see lots of PLP organised feel-good photo ops and boisterous declarations of false progress.

"Unfortunately, the people have seen it before; during the last election the PLP offered up a long list of false promises," Dr Minnis said.
"Where is the mortgage relief they promised? Where is the NHI they promised? With annuals deficits soaring - even after they raised taxes - where is the fiscal constraint they promised? They promised to make our communities safer, but how do they explain the highest murder rate in Bahamian history for two straight years? Do the people feel safer? And in the meanwhile the crime and corruption under this government is impacting our tourism industry."
Dr Minnis said the only thing he wants to hear from the Prime Minister is the current status of the Baha Mar negotiations.
"That brings us to tomorrow (Wednesday), the Prime Minister will no doubt be 'optimistic' that Baha Mar will open and that a deal is imminent," Dr Minnis said.
"Thousands of unemployed Bahamians have heard this before from the Prime Minister, yet they are still without work. Taxpayers who continue to foot the bill for the tens of millions of dollars in utility cost that Baha Mar runs up each year, have heard it before as well. Yet they still see their tax dollars vanishing to the vacant, hulking structure.

"If this government truly has a plan the only way for us to be sure is through open and transparent negotiations. The people don't want any more false hope and fake optimism from the Prime Minister; they deserve an in-depth plan that will get them back to work. The time for closed-door, election-year, backroom 'deals' are over. The time for their empty rhetoric and broken promises are coming to an end as well.

"It's our hope that (today) the Prime Minister does not serve up more of his empty rhetoric and election year promises at a carefully staged photo op, but having seen the dismal record of this government we cannot be optimistic."
On Monday night in a statement, Mr Christie said he would make a communication in the House of Assembly on Baha Mar today.