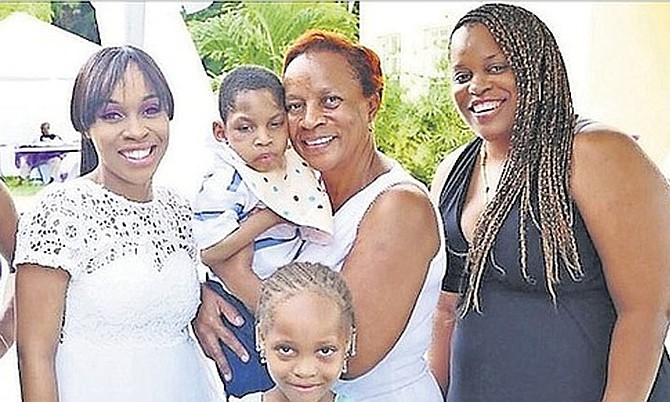 By ALESHA CADET
Tribune Features Reporter
acadet@tribunemedia.net
WHILE some might feel that life has dealt Latrell King a difficult hand, the mother-of-three sees her lot of raising a son suffering with cerebral palsy as a chance to inspire others.
Ms King has taken her experiences with her son, Kilano Capron, now seven years old, and turned them into a book that aims to not only motivate persons in a similar situation, but to help readers in general gain a better appreciation of all that is good in their lives.
"A Mother's Tragedy" tells the story of Kilano fight with cerebral palsy, which is defined as a group of permanent movement disorders that appear in early childhood. Symptoms can include poor coordination, stiff muscles, weak muscles, and tremors.
The book shares all of the agonising, memorable and life-changing experiences of Kilano's childhood.
"His testimony is a miracle. This is an inspirational book etched with words of hope, influence, grief, tragedy and faith.
"He is the reason that I have a story to tell that's worth listening to.
"It was his testimony that made me an author and consequently who I am today," Ms King told Tribune Health.
She said she feels a sense of accomplishment after seeing the book published.
"I was extremely excited and I cried tears of joy when it be came available on Amazon," she said.
From the first page to the last, Ms King said she wholeheartedly believes that what she went through was not just for her, but was to help and motivate others to keep pushing, to keep trusting in God, and believe that although sometimes tragedy strikes, it does not define the person you are.
"The book is realistic and truthful in its entirety.
"I want readers to grasp that coping with sickness is not easy, but all things are possible with God.
"I want them to take a second look at their lives and be a little more thankful for the things they do have, like a healthy child. I want people and society to fully grasp my pain and my struggle and use it as a fuel to help them cope with their own trials and struggles," said Latrel.
Based on the feedback she has received thus far, Ms King said she feels like she has definitely achieved what she set out to do – to touch lives through her son's testimony.
There is no date for an official book launch as yet, but the author is looking forward to hosting events in Nassau and Atlanta this summer to promote "A Mother's Tragedy".
Orders can be placed via e-mail at amotherstragedy@gmail.com or on the Facebook page "A Mother's Tragedy". The book is also available on amazon.com.