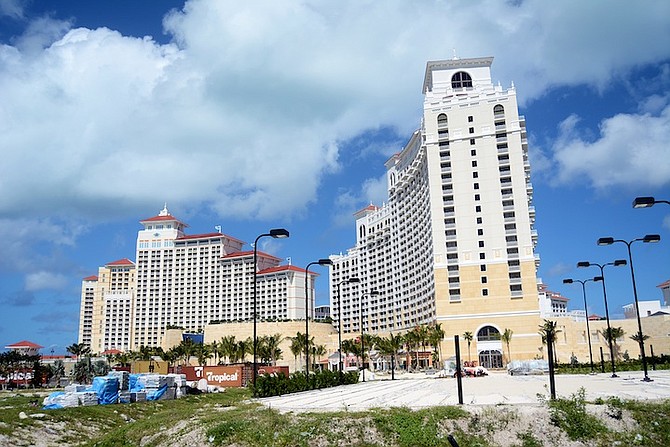 By AVA TURNQUEST
Tribune Chief Reporter
aturnquest@tribunemedia.net
THE Hong Kong conglomerate in talks to purchase the Baha Mar resort yesterday refuted assertions that it was "unsuited to invest in the country", stating its commitment to integrity and good governance in business operations worldwide.
Baha Mar bidder Chow Tai Fook Enterprises Ltd (CTFE) said it has never applied for a casino licence in the United States, and as such, has never been denied by that jurisdiction.
CTFE emphasised that it is a privately held business that identified the Bahamas as a "unique growth opportunity", seeking to address suggestions that it had links to the Chinese government.
The conglomerate's response to questions from The Tribune came a day after former Baha Mar Director Dionisio D'Aguilar suggested that the conglomerate was an unsuitable investor due to its reported inability to obtain casino licensing in two US states, and its alleged "well-documented connection to organised crime in Asia".
The "well-documented connection" likely refers to the Cheng family's - owners of CTFE - link to billionaire Stanley Ho through its stake in Macau group STDM.
Mr Ho and his associates have reportedly been unsuccessful in attempts to expand gaming interests into Australia, Canada and other countries due to alleged associations with Chinese triad gangs in his Macau casinos.
CTFE yesterday said: "CTFE has never applied for a casino license in the US and, a consortium including CTFE has just been approved for the granting of a casino license in Queensland, Australia.
"Further, the Cheng family is an investor in Sociedade de Turismo e Diversões de Macau (STDM), which owns the gaming subsidiary, SJM Holdings Ltd (SJM).
"In addition, the Cheng family's role in the Macau casino is strictly as an investor with no involvement in day-to-day management of the casino or oversight of the gaming industry in Macau.
"As a company, we are committed to integrity and good governance in all of our business operations worldwide. There will be no affiliation on this project with STDM or SJM," the conglomerate added.
It was revealed that CTFE was in talks over the troubled Cable Beach resort last Thursday in a statement issued by the Hong Kong-based firm.
The announcement led to renewed calls from the Official Opposition over the sparse release of information from the government, and incensed concerns over the apparent rise in Chinese influence in local investments.
Former PLP MP Philip Galanis told The Tribune on Sunday that the government's failure to address the "real concern expressed by many" in a clear and systematic way, had long become a non-partisan issue.
Yesterday, the conglomerate said: "CTFE is a privately-held business based in Hong Kong that operates based on finding the best business opportunities globally with a commitment to integrity and good governance.
"Our decision to expand into the Bahamas is based on our expectations that it is a unique growth opportunity. It also fits well strategically in our portfolio and overall growth strategies."
It continued: "CTFE is dedicated to the successful opening of Baha Mar and will partner with the government of the Bahamas to achieve the goal of a phased opening."
The first phases it plans to open at the beleaguered resort, CTFE said, will include "a convention centre, golf course, casino hotel, casino, and restaurants and shops."
Speaking to its long-term vision, the company said: "CTFE is committed to significant and ongoing investments into the success and development of Baha Mar.
"Our long-term vision is to build a financially successful, sustainable business that provides thousands of jobs for Bahamians and creates opportunity for reinvestment in the country.
"Our goal is also to build upon and unlock the great potential of the project's current foundation by redeveloping the offshore island and the Crystal Palace Casino Hotel property, as well as creating additional world-class amenities."
Rosewood Hotel, a subsidiary of CTFE Group, has had a relationship with Baha Mar since 2011 as one of the originally selected operators for one of Baha Mar's hotels.
However, after the resort, under the direction of original developer Sarkis Izmirlian, filed for bankruptcy in a US Delaware court in 2015, Rosewood requested that the court void its licensing agreement with Baha Mar, arguing that its brand had been tarnished by its association with Baha Mar.