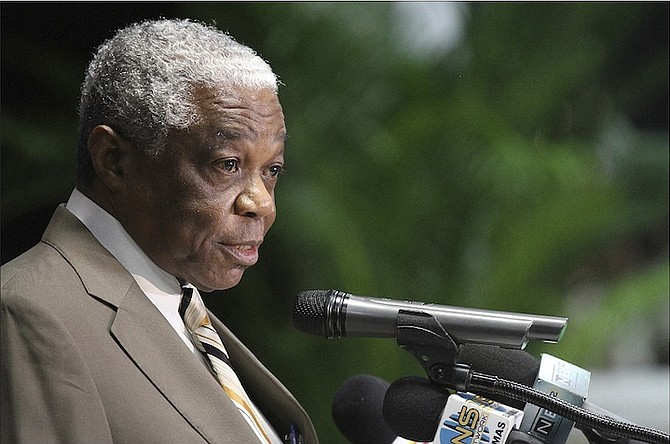 By NICO SCAVELLA
Tribune Staff Reporter
nscavella@tribunemedia.net
BAIN and Grants Town MP Dr Bernard Nottage yesterday said there is "nothing to be threatened about" by the Free National Movement's (FNM) recent ratification of 21-year-old Travis Robinson as the party's candidate for the area, adding that age is an "irrelevant" factor in either man's bid at securing the seat.
Dr Nottage, the minister of national security, told The Tribune that he has "no problem" with Mr Robinson's emergence as a rival to the Bain and Grants Town seat, a seat traditionally held by the Progressive Liberal Party (PLP), as he said it would be "ridiculous" for him to expect to go unchallenged in the area.
As to whether FNM Leader Dr Hubert Minnis made the right choice by ratifying Mr Robinson, Dr Nottage said: "It's not my business."
There is a 50-year age gap between the two men.
Dr Nottage, 71, also told The Tribune he is "willing and able" to run again in the constituency, and will do so as long as residents there want him and if the PLP nominates and subsequently ratifies him as its candidate for the area.
Last week, Mr Robinson, a College of the Bahamas student, was one of six FNM candidates ratified for the next general election, alongside businessman Dionisio D'Aguilar and former Senator Lanisha Rolle.
Earlier this year, Mr Robinson announced that he planned to run as an independent candidate in the area. With his ratification, Mr Robinson hopes to become the youngest parliamentarian in the country's history.
When asked if he was threatened by the youthful newcomer, Dr Nottage said: "No. I have been someone who has offered to serve the Bahamas, and I have had the good fortune to be elected and to have served the country. So there's nothing to be threatened about."
He added: "If people want me to continue to serve, I am willing and able to do so. And I think it would be ridiculous not to expect to have any opponents. And the age of the opponent is irrelevant as far as I'm concerned."
When asked for his take on the FNM's decision to ratify such a young candidate, Dr Nottage: "It's not my business. Whoever is (chosen) by whichever party, is somebody who is an opponent of mine and someone who would like the opportunity to be a parliamentarian. It's not my business."
He added: "The Constitution indicates how old you have to be to run for Parliament or to serve in the Senate. And as long as his age meets what the constitutional requirement is, it's okay."
Last week, during a fiery and well-received speech to a packed crowd of more than 100 people at FNM headquarters, Mr Robinson called for his prospective constituents as well as the wider Bahamian public to give him a chance to show he has what it takes to be a dependable MP, notwithstanding his age and lack of political experience.
"It's not about political experience because…at the end of the day, the people could care less about how much money you have, how old you are, or how much experience you have if you cannot meet their basic needs in terms of being compassionate towards them, having a conversation with them, being able to sit down with them, being relevant, and relatable to them," he said.
"I feel like those key things far surpass anything in terms of experience or age. People are looking for an individual who they can identify with. I'm not promising any individuals any fancy this or fancy that. "What I'm simply presenting forth is a young man with a passion, a vision and a desire to serve his community to the best of his ability."
Meanwhile, up until yesterday, it was unclear whether Dr Nottage had plans to run in the next general election.
In August, when asked about Dr Nottage's political future, PLP Chairman Bradley Roberts said: "I'm not aware that he is not running."
Mr Roberts also said at the time that the PLP hadn't officially asked Dr Nottage if he would offer himself for re-election. Mr Roberts also said one other person had expressed a desire to run for the PLP in the Bain Town constituency, but did not reveal that person's name.
State Minister for National Security Keith Bell said earlier this year that he hoped to be promoted to the senior position and become minister of national security if the PLP wins the next general election, adding to the uncertainty over whether Dr Nottage had plans to run in the next election.
More like this story