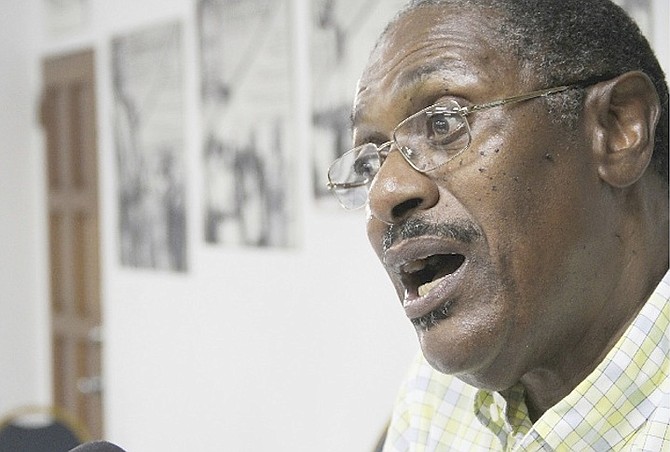 By AVA TURNQUEST
Tribune Chief Reporter
aturnquest@tribunemedia.net
PROGRESSIVE Liberal Party Chairman Bradley Roberts yesterday challenged former Baha Mar Director Dionisio D'Aguilar to explain his objection to Baha Mar bidder Chow Tai Fook Enterprises (CTFE) when its subsidiary, the Rosewood Hotel brand, was formerly engaged by the resort.
Mr Roberts was responding Mr D'Aguilar's suggestion that CFTE was "unsuited" to invest in the country, which he called a clear sign of "confusion and intellectual dishonesty."
The PLP chairman also renewed his charge that there was a conflict between the FNM's Montagu candidate's role as a politician and his former position as a director of Baha Mar.
Mr Roberts maintained that Mr D'Aguilar had to address the matter to "retain any semblance of credibility" as a public official.
"Thinking Bahamians invite D'Aguilar, as a former director of Baha Mar, to fully disclose why he and his fellow board members made the decision to place the company in bankruptcy," Mr Roberts said.
"Mr D'Aguilar must answer to the Bahamian people on this substantive point.
"Telling the government and the Bahamian people to just 'get over it' when asked about his deceitful dealings with the government is ill-advised, plain arrogant and unseemly for a public official as the public demands accountability and transparency from those who aspire to lead them."
Mr Roberts added: "It is also imperative that D'Aguilar explain why his board boldly embraced Rosewood hotel management brand – an affiliate of Chow Tai Fook Enterprises – as Baha Mar's lead hotel brand.
"His clarification is critical because D'Aguilar as the FNM's candidate is now saying that Rosewood is not fit to own and operate the mega resort. The bottom line is D'Aguilar can't have it both ways as reprobation and approbation at the same time raises public mistrust and is a clear sign of confusion and intellectual dishonesty."
It was revealed that CTFE was in talks to buy the troubled resort last Thursday via a press statement issued by the Hong Kong-based firm. On Sunday, Mr D'Aguilar claimed that the owners of CTFE were unable to obtain casino licensing in two US states, and highlighted allegations of its "well-documented connection to organised crime in Asia".
CFTE has since denied those claims.
Rosewood Hotel, a subsidiary of CTFE Group, has had a relationship with Baha Mar since 2011 as one of the originally selected operators for one of the mega resort's hotels. However, after the resort, under the direction of original developer Sarkis Izmirlian, filed for bankruptcy in a US Delaware court in 2015, Rosewood requested that the court void its licensing agreement with Baha Mar, arguing that its brand had been tarnished by its association with the Cable Beach development.