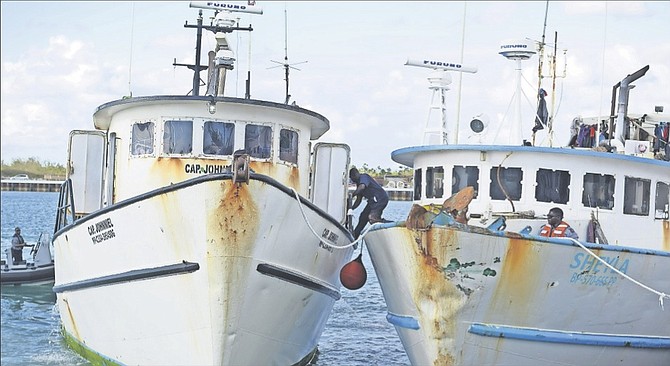 By RASHAD ROLLE
Tribune Staff Reporter
rrolle@tribunemedia.net
OFFICERS and marines of the Royal Bahamas Defence Force arrested two Dominican fishing vessels on the high seas last week, while several other vessels, believed also to be Dominican, escaped the Great Bahama Bank.
More than 100 Dominicans were poaching in the area before Defence Force officers and marines, led by Lieutenant William Sturrup, apprehended 50 poachers on Wednesday, according to one Defence Force officer.
Nonetheless, Acting Defence Force Commander Captain Tellis Bethel said the apprehension of the Dominicans signals the force's increasing success in countering poachers. Their success is attributed in part to the government's acquisition of several defence force vessels in recent years.
"Our customers think (we are doing a better job responding to poaching)," Captain Bethel told The Tribune on Friday. "The Bahamian clientele, the local fishermen, they have been reporting huge catches on the Bahama Bank such as they have never seen before over the last ten, some say 20 years. There is some evidence that as a result of the Defence Force conducting its patrols with the recent acquisition of its patrol crafts, we are beginning to roll back the Dominican poachers. Years ago they were able to fish at will, but now because of the presence of the Defence Force they really have to exercise caution when they do what they do. We are in a position where we are able to respond quickly, whether during a regular patrol or responding to a report by fishermen.
"Our success owes to greater resources. The acquisition programme under the government's approved Sandy Bottom project entails acquisition of nine patrol crafts. All nine have been constructed and delivered. The latest capture involved the most recent delivery of patrol craft, the Her Majesty's Bahamian Ship Madeira."
The Madeira sustained damage during the encounter as a Dominican vessel rammed it while attempting to escape, damaging the hull.
"I think (the officers and marines) did extremely well with regard to the incident considering we had ten to 12 foot seas," Commander Bethel said. "We had a relatively small crew but it was very well executed such that he could apprehend two vessels in one incident."
During the encounter officers captured a significant amount of fish that was on board the Dominican vessels.
The Dominican poachers captured will now be taken to court and charged for illegally fishing in the Bahamas.