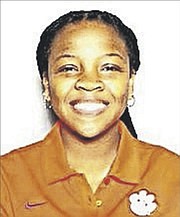 By RENALDO DORSETT
Sports Reporter
rdorsett@tribunemedia.net
COACH Yolette McPhee-McCuin and her Jacksonville University Dolphins are set to begin their conference title chase and make an even deeper run in the NCAA tournament in the 2016-17 campaign.
Last season, her third year at the helm, she led the Dolphins to a 22-11 record, the A-Sun tournament title and their first NCAA Tournament championship berth in school history.
This year will be all about the team building on that success.
"I don't want you to be concerned, I'm not still caught up in the past. The goal this year is to pursue an A-Sun Championship, it will never change," she said. "We're not trying to repeat and I don't think you can repeat when you have new members, it's a new team. So we just want to pursue another championship. That's what we're about."
The Dolphins have garnered national attention with a No. 22 ranking in the CollegeInsider.com Mid-Major Top 25 poll.
"I'm just looking for continual growth from the team, we only lost one senior so I expect the ones that have experienced a championship to act like it and the ones that haven't to want to be a part of it. If we can do that collaboratively we'll come together and have success," she said. "Hopefully in March you want your team to run itself. This is a new team so this is new challenge and as far as we're concerned we're out to get everyone else. No target for us. We're just trying to put it all together one day at a time and if we can get better everyday then we've done our job."
The ranking comes weeks after the Dolphins were selected to repeat as the ASUN Conference champions in the league's coaches' poll.
The Mid-Major Poll is made up of teams from the following conferences: America East, Atlantic Sun, Big Sky, Big South, Big West, Colonial, Horizon, Independents, Ivy, Metro Atlantic, Mid-American, Mid-Eastern, Missouri Valley, Northeast, Ohio Valley, Patriot, Southern, Southland, Southwestern, Summit, Sun Belt, West Coast, Western Athletic.
The Dolphins open their season on Friday (November 11) against Thomas (Ga.). This offseason, McPhee-McCuin sought to create further ties between her at Jacksonville University Dolphins and the Bahamas with her "JU in the 242" programme.
A busy schedule during the three days was highlighted by the Dolphins' appearance at the Ballin By Da Beach basketball clinic at the Kendal Isaacs Gymnasium.
"Coach Yo" and her players facilitated dozens of students through a series of drills and skill challenges while also offering words of inspiration.
The Dolphins also competed in a pair of exhibition games against a team which included members of the Bahamian national team.
The Dolphins won both matchups 70-55 and 84-49.
Beyond the lines of the basketball court, Jacksonville also participated in several community service events, including a visit to the Children's Emergency Hostel.
When she was announced as the Dolphins head coach in April 2013, McPhee-McCuin became the first Bahamian head coach in an NCAA Division I basketball programme.
The daughter of legendary Bahamian coach Gladstone "Moon" McPhee and educator Daisy McPhee, she became the third head coach in the 14-year history of Jacksonville women's basketball.
McPhee-McCuin took on the role of head coach for the Dolphins after a three-year run at Clemson University, where the National Women's Basketball Insider named her one of the top assistants in the nation.
Last offseason, she signed her first Bahamian to the Dolphins' programme, Shalonda Neely.