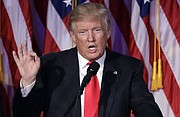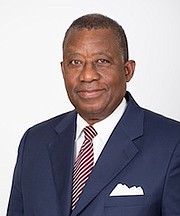 By RASHAD ROLLE
Tribune Staff Reporter
rrolle@tribunemedia.net
ALTHOUGH many Bahamians expressed shock and anger at the results of the November 8 US presidential election, one expert says they should take heart in one fact: Donald Trump's election won't have much impact here.
James Smith, former state minister of finance, said it is even possible that the new concentration of power in the hands of one political party - the Republicans - could boost the American economy, helping Bahamians.
"I don't think it's going to have much effect," he said when contacted about Mr Trump's victory. "Our greatest engagement with the US is our tourism sector and that's really a function of how the US economy performs.
"I don't see any major indications that there will be any change in the economy that will affect tourism. Having said that, if his economic policies result in more growth in America then clearly we might be the recipients of more visitor arrivals. On the other hand, if it affects the economy in a negative way, that could impact us as well. But of course, either way, none of that would happen in the short-term. Over the short-term, which could be less than a year, you won't see any dramatic change in the relationship or the economy."

Mr Smith said he doesn't believe a particular American political party is best for the interests of Bahamians.
"People used to say the policy of Republicans favour us because with respect to the offshore financial services sector they tended not to want to interfere with that too much," he explained. "But the reality is the Americans have now joined hands with the OECD and Europeans. Neither party will waver from the commitment to information exchange on financial accounts and that sort of thing. Right now, either party will view the Bahamas as the same."
Mr Trump's victory was marked by a sweeping dominance of Republicans among all branches of government, giving the party control of the White House, the Senate and Congress.
Mr Trump, experts say, will therefore have significant latitude to change American policy and pass legislation.
The jury is out on what this means for Bahamians, Mr Smith said, adding: "That might be more efficient from the US point of view. In the Obama years nothing could get done because of stalemate from both bodies, which might account for some of the anger that manifested itself in the voting. Now there is no excuse assuming Mr Trump would get the cooperation of his party. It's up to him to make amends.
"But operationally, he could be off to an excellent start. All he has to do is make peace with the number of people he may have upset. The mood in the country right now is negative because of what he had been saying but fortunately we didn't hear anything from him to suggest that he'd put a travel ban on us or anything. He didn't focus on the neighbourhood around him."