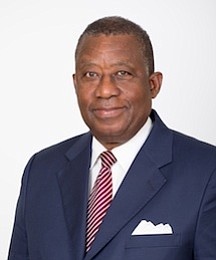 James Smith
Stories this photo appears in:

ALTHOUGH the Minnis administration hopes Bahamians benefit from customs duty waivers off clothes and shoes for retailers, former government ministers say businesses have historically failed to pass savings from exemptions to consumers.

TRANSFERRING more toxic Bank of the Bahamas loans to Bahamas Resolve will "tremendously" increase this country's public debt, former Central Bank Governor and Bahamas Resolve Chairman James Smith said yesterday.

AS Moody's prepares to review the Bahamas' creditworthiness following the Minnis administration's revelations about the country's fiscal condition, former Central Bank Governor James Smith warned that a downgrade to 'junk' status would raise the cost of borrowing, increase the current costs of debt servicing and potentially scare off investors.

THE chairman of Bahamas Resolve, James Smith, said that the government may have to pay interest costs for bad debts at the Bank of The Bahamas.

THE Baha Mar Claims Committee has issued about 200 cheques to Bahamian companies owed by the beleaguered resort, Committee Chairman James Smith said yesterday.

ALTHOUGH many Bahamians expressed shock and anger at the results of the November 8 US presidential election, one expert says they should take heart in one fact: Donald Trump's election won't have much impact here.

BAHA Mar's Claims Committee Chairman James Smith said Bahamian businesses owed money by the resort are responding slower than expected to the call to submit necessary documents in order to receive ex-gratia payments made available by the Export-Import Bank of China.
A former finance minister says the recent OECD-inspired media onslaught against the Bahamas is akin to an "unofficial blacklisting" of its financial services industry, describing the situation as "a new form of international colonialism".

FORMER State Finance Minister James Smith, chairman of the committee overseeing Baha Mar payouts, yesterday defended the work of the committee amid criticism that former resort employees have yet to be contacted regarding money they are owed.