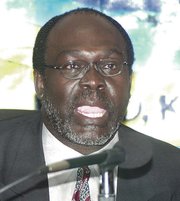 The Trade Union Congress's (TUC) president has vowed to pursue the its grievance against Sandals Royal Bahamian's termination of 600 employees to its "logical conclusion", arguing that the Attorney General's decision to nullify their case against the resort's top executives had put workers in a 'frightening" position.
Obie Ferguson also argued that the National Tripartite Council, which advises the Government on labour and industrial matters, "serves no purpose".

Mr Ferguson said the labour movement was "worse off" from a legal standpoint than when it began. "If you go to the labour department and the employer fails to attend a conciliation meeting, there is nothing your an do, zero," he argued.
"That is because of the decision of the Attorney General with respect to Sandals. If the union has a general dispute and it goes to the labour department, nothing will happen today, zero. This is a frightening thing."
Back in August, following an abrupt closure which saw 600 employees made redundant, Sandals outlined a $4 million renovation to be undertaken during a two-month period at its Cable Beach property.
Executives of the Bahamas Hotel, Maintenance and Allied Workers Union (BHMAWU), which falls under the TUC and represented Royal Bahamian line staff, accused Sandals of union busting - a charge the resort has rejected.

"I want the public to understand that the Sandals matter will never be resolved until it is resolved. As long as I have breath in my body I will go where I have to, to prove to the Government that they have a duty to direct that matter and, if they don't do it to the extent the law provides, I will pursue it to its logical conclusion," said Mr Ferguson.
Mr Ferguson said trade union executives are very concerned over the direction of labour relations in the Bahamas, and he argued that the National Tripartite Council serves very little purpose.
"We have two members from the TUC on that tripartite committee. In all fairness, the committee serves no purpose. If they recommend something and the employer says no, that's it, simple. The Government is an employer; we must not forget that," said Mr Ferguson.