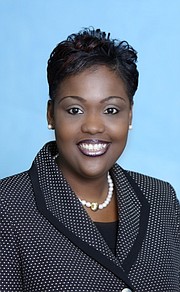 The Bahamas was yesterday urged to examine the benefits of implementing a 'low rate' corporate tax, and whether this would unlock potential "benefits" from double taxation agreements.
Tanya McCartney, the Bahamas Financial Services Board's (BFSB) chief executive, told Tribune Business that the industry was continuing to push for a comprehensive review of this nation's taxation structure.
Apart from positioning the Bahamian financial services industry to better compete in a global market dominated by 'tax transparency' demands, Ms McCartney suggested a corporate income tax would better reflect the reality faced by many companies.
She said the various fees and licenses paid annually by Bahamas-domiciled companies represented a significant tax burden, which the World Bank's recent 'ease of doing business' report estimated as equivalent to 34 per cent of annual profits.
"We believe there needs to be a review of our tax structure so that we are positioned to enter into double tax agreements and that sort of thing," Ms McCartney told Tribune Business.
Emphasising that the BFSB and wider financial services industry were not calling for the introduction of personal income tax, something that would likely be resisted by ordinary Bahamians and create a major 'cultural shock', Ms McCartney said the focus was on the corporate side.
"Income tax is not something we have been advocating for," she told this newspaper. "What we are advocating for is a review of the tax structure, particularly in the context of corporate tax.
"Businesses pay a lot in fees and licenses, but it doesn't equate to them getting the benefits of double tax agreements, so we need to strike a balance there.
"It's time for us to review how we tax entities such that the world sees it for what it is."
Calls for the Bahamas to seriously examine the implementation of a low rate income/corporate tax have gained momentum in recent years as a result of the changing international financial services environment.
Paul Moss, president of Dominion Management Services, told Tribune Business earlier this year that the Bahamas needed to implement such tax reforms itself, rather than be seen as forced into doing so by the likes of the Organisation of Economic Co-Operation and Development (OECD) and European Union (EU).
He argued that the Bahamas had to accept, and come to grips with, global demands for 'tax transparency' and compete in the same arena through implementing either a corporate or income tax.
A switch from the Bahamas' current 'no tax' platform to one that is based on a 'low rate' corporate/income tax could give this nation extra legitimacy, helping to shed the so-called 'tax haven' label, while also attracting companies to domicile and do business here.
Such a move would also pave the way for the Bahamas to enter into double taxation treaties with other nations. These agreements would ensure that foreign companies and individuals were taxed only in the Bahamas - and at lower rates - on profits and capital they wanted to repatriate back home.
Barbados has become the 'Caribbean jurisdiction of choice' for Canadian-owned companies, for instance, because its 'double tax' agreement with Ottawa allows their income to be taxed only at its lower rates.
And implementing a corporate income tax would also enable the Bahamas to avoid one of the three criteria the EU is employing to draw up its latest 'blacklist' of jurisdictions deemed uncooperative on tax matters.
The taxation 'review' is among the proposals the Government has yet to approve, although it has given the nod to other reforms designed to improve the financial services industry's competitiveness.
Hope Strachan, minister of financial services, last week confirmed that the Christie Cabinet had approved the introduction of Tax Residency Certificates for investors who either live, or have business interests, in the Bahamas.
Ms McCartney yesterday said the BFSB and wider financial services industry had been urging the issuance of such Certificates "for a while", as it would make the Bahamas "more attractive" to the sector's high net worth client base.
The BFSB chief executive, though, emphasised that the Government had only approved the Tax Residency Certificate "concept", and it now needed to work with the private sector on its practical implementation.
"I don't think it's a question of advantage and attraction," Ms McCartney said of the Tax Residency Certificate's impact. "It's how does it make us more competitive.
"If people are investing in the Bahamas, residing in the Bahamas, they should be able to get credit for it. To the extent they have a substantial connection to this jurisdiction, pay taxes and fees here, spend considerable time here, this should reinforce these three things."
The Tax Residency Certificate could prove a valuable for foreign investors and residents, as it will show they are in the Bahamas legitimately and for a specific period of time every year - something that will prove useful in dealing with home country tax authorities and may lessen reporting requirements.
Ms McCartney, though, implied that the Bahamas was again playing 'catch up', as she confirmed that rival jurisdictions already provide Tax Residency Certificates to their foreign residents.
However, she added: "It's step in the right direction as we seek to reposition the jurisdiction to respond to the changing operating environment and make it more competitive."
Ms McCartney said the Government's decision not to offer economic citizenship, where major investors would be given accelerated consideration for Bahamian citizenship once they invested a certain sum in this nation, would not hurt the financial services industry.
"It's not on the table, so we propose to work with the Government in the context of permanent residency," she told Tribune Business. "That's the policy position, and economic citizenship is not something the policymakers are willing to consider at the moment.
"It's not an impediment to the Bahamas' advantage. In the grand scheme of things, there are other things that give is a competitive advantage."
Ms McCartney again urged the Government to reform its Immigration policies and procedures where high net worth investors are concerned, and to spend "considerable effort to address" the slippage in the World Bank's 'ease of doing business' report.