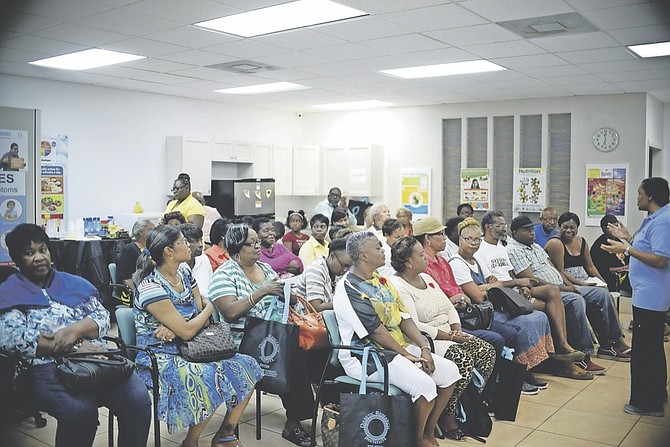 Of the estimated 35,000 persons living with diabetes in the Bahamas, several hundred turned up to a special symposium this past weekend to hear important information and receive support in coping with the disease.
As countries around the globe observed World Diabetes Day yesterday, representatives at the Bahamas Diabetic Research Institute were pleased to have hosted another successful symposium which called attention to this year's theme – "Eye on Diabetes".
Organisers invited special guests like consultant ophthalmologist Dawn Russell-Hermanns, family medicine doctor Crispen Gomez and nutritionist Breanne Pritchard to speak on the topic in an effort to drive home the message that "prevention is better than cure" and education is key. 
Coral Dean, a registered nurse and programme coordinator at the Institute, said she is happy that those who attended the symposium understood the importance of diabetes care expanding far beyond just taking medication. 
"Most of us as Bahamians, once the doctor prescribes medication you feel like that is the end of it and you don't have to do anything else. But in managing diabetes, you have to take your medication, monitor your blood sugar several times a day, eat a healthy diet and physically exercise," said Nurse Dean.
During the symposium, she said, persons were made aware of the group sessions the Institute offers on a regular basis to provide information on living with diabetes. 
"The whole idea is to focus on prevention and control of the disease. The feedback was very positive and everyone here was so overwhelmed by the wealth of knowledge that came from our doctors, and they were so empowered by the information. A lot of them who have been diabetic for a long time; they were just happy that they took advantage of the opportunity to come and listen and they learned a whole lot," said Nurse Dean.
Employed at the Institute for little over a year now, Nurse Dean said this was her second time participating in the World Diabetes Day activities and it exceeded her expectations.
"This was really far beyond our imagination. We had standing room only. Our numbers were well in the hundreds. These activities were important because of the large number of persons who are diagnosed almost on a daily basis with diabetes. We have more than 387 million persons living with diabetes in the world. In the Bahamas alone, the last statistics show that we have more than 35,000 persons with diabetes," said Nurse Dean.
She said the Bahamas is becoming more and more fast food oriented each day and persons are not cooking in their homes like they used to.
"These fast foods, even though convenient, are bad for us and we see now there is so much obesity, and obesity is one of the things that put persons at the risk for Type 2 diabetes. We are seeing more and more of our children who are developing Type 2 diabetes because of the fact that they are overweight. The body can no longer utilise the insulin that is produced by the pancreas, so therefore they become pre-diabetic or diabetic on the whole, and I am passionate about this especially," said Nurse Dean.
Her goal is to educate children as well as their parents; teaching them to eat healthy and encouraging them to be physically active so they can live healthy lives. 
"I am sure when you look around and walk the streets you see people are overweight and a lot of them are pre-diabetic and are not even aware of it until something happens. Education is key and so one of the things we a started a year ago was, I personally started going into the schools to speak with family life teachers as well as the nurses and counsellors to speak on prevention," said Nurse Dean.