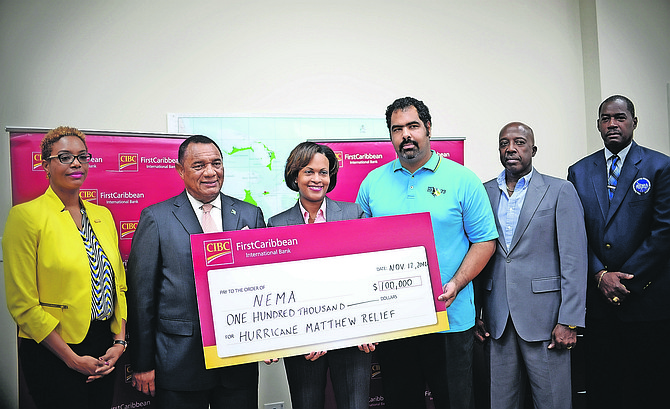 RELIEF and recovery efforts for those most affected by Hurricane Matthew received another boost yesterday with a $100,000 donation from CIBC FirstCaribbean to the Bahamas Disaster Relief Fund.

In expressing his gratitude to CIBC for the donation, Prime Minister Perry Christie said that some people underestimate or don't understand the mechanics of the relief and restoration efforts and the associated costs.
"We've spent $7m to date on debris removal and clean up alone and we are not done yet," Mr Christie said at the cheque presentation at the National Emergency Management Agency (NEMA) on Gladstone Road. "And then there's much to do in Andros and we have an economic and job challenge in Grand Bahama which was hardest hit. Therefore, the co-operation and financial donations by the private sector are much appreciated."
CIBC FirstCaribbean managing director, Marie Rodland-Allen, spoke of the bank's donations for both Hurricane Matthew and Joaquin last year.
"Just last year post Hurricane Joaquin, we were here at NEMA to donate 25 fridges and 25 stoves for delivery to primarily the Southern Bahamas government-built homes," she said. "As good corporate citizens we feel we have an obligation to assist when needed the communities where we live and work. Our hope with this donation today is that it will assist those who need it most in their personal struggles to rebuild their lives. Corporate giving and staff volunteerism are the pillars of the CIBC FirstCaribbean and CIBC community relations platforms.
"While being hit two years in a row by two major hurricanes is something that none of us wish we'd had to face, we're proud to have been able to have been able to make such a significant impact on the lives of our fellow Bahamians on both occasions. Our company is committed to responding to the needs of our communities in tangible and meaningful ways, especially in the wake of such a major disaster. We're convinced that as we come together to help each other, we'll all come through this much stronger than before."
Gowon Bowe, a member of the National Disaster Relief Committee responsible for the accounting and fund raising, said that Canadian banks had a long tradition in the Bahamas and he was always glad to see reciprocity on their part. "This corporate outreach demonstrates the partnership that exists between the private and public sectors in the times when we all need to work together for a humanitarian cause to help people, and for the good of the country overall."
The $100,000 contribution follows the significant donation of 25 refrigerators and 25 range stoves to NEMA by CIBC FirstCaribbean in June. The new appliances are scheduled to be installed in the homes of 25 families in the Central and Southeastern Bahamas who lost their homes to Hurricane Joaquin last October. Additionally, CIBC FirstCaribbean staff personally donated essential supplies including three palettes of drinking water, cleaning supplies and food items for victims of Hurricane Joaquin in the wake of that storm.
In recent weeks, several other CIBC units have also made substantial contributions. CIBC Canada donated CAD$50,000 to the Canadian Red Cross several days after the storm, while CIBC FirstCaribbean donated 300 water filters to the United Caribbean Trust in Barbados for the community water tanks in areas of Haiti that were devastated by Matthew. The filters will be installed in schools, orphanages, prisons and churches and will give an estimated one million Haitians access to safe drinking water.
CIBC FirstCaribbean also donated BDS$25,000 to Food for The Poor, a Jamaica-based charity distributing food and other supplies to those affected by the hurricane in Haiti.