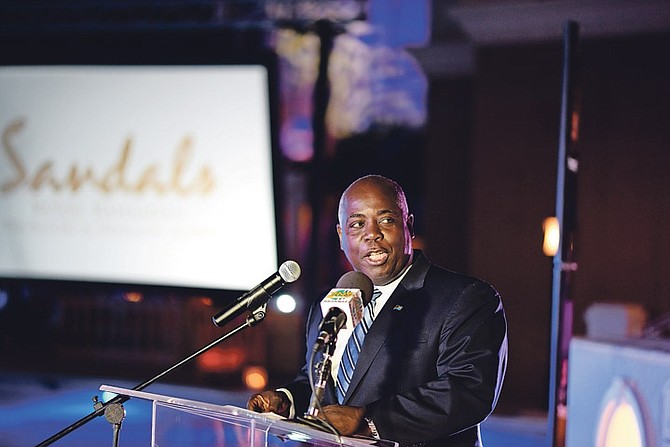 DEPUTY Prime Minister Philip "Brave" Davis congratulated officials from Sandals Royal Bahamian on the resort's reopening at event on Friday night.
Speaking at a ceremony to mark the reopening, Mr Davis said: "Many speculated as to the rationale for the closure on August 15 this year. They could not know that Sandals is continually in evolution. Today, the hotel has been refurbished and boasts a full complement of 750 employees."
He added: "The human resources of any organisation is its most valuable asset. For this reason, I am very happy to learn that Sandals Royal Bahamian will relaunch the campus of Sandals Corporate University. Training is imperative for success and nothing has greater economic impact on the viability of hotel operations and the sustainability of livelihoods than a professionally trained and certified workforce."
He also thanked the resort's owner, Gordon "Butch Stewart, and management team for their confidence in the Bahamas as a tourist destination.
"Your choosing us adds to our portfolio of successful global hospitality brands and to the development of hospitality professionals in The Bahamas. I continue to wish you well in all of your endeavours," Mr Davis said.
The luxury resort closed temporarily on August 15 and made more than 600 workers redundant in the process. The move was unavoidable and necessary to carry out needed repairs, resort officials said.

However Minister of Labour Shane Gibson has criticised hotel officials, saying executives could have laid off the employees instead of making them redundant.
Mr Gibson has also said the hotel did not give his ministry early notice of the planned redundancies, only informing the ministry by letter one business day before the changes took place.