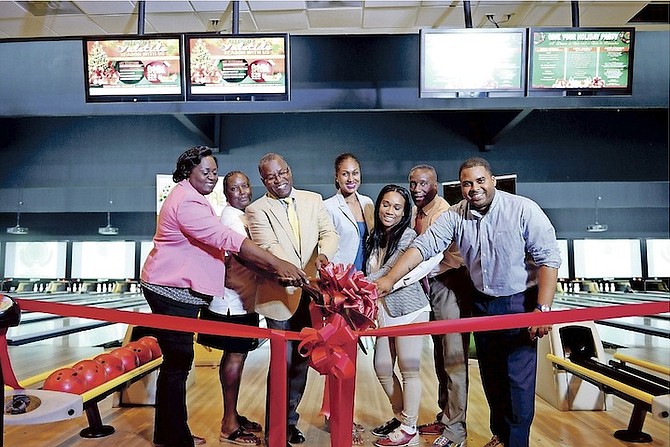 By BRENT STUBBS
Senior Sports Reporter
bstubbs@tribunemedia.net
It was a red letter day yesterday for the Ministry of Education, Science and Technology as bowling was added to the after-school curriculum for the Government Secondary Schools Sports Association.
The historic occasion occurred at Mario's Bowling and Family Entertainment Centre as sponsors such as Island Luck, Bamboo Shack and BTC made a commitment to assist financially in getting the National High School Bowling League up and running.
Ten years ago, Mario's Bowling and Entertainment manager Leslia Miller-Brice said the dream began with the implementation of the junior league for high schools and she's excited that it's now a reality.
"This league is not for me or for anybody sitting at the table or anybody at the Ministry of Education," she said. "What we are doing today is for you (the participants). You are the future of our nation and our job is to instil into you everything that we have and that is what we are doing today."
Over the years, Miller-Brice said Mario's Bowling has been approached by various colleges and universities asking for student-athletes, who can benefit from the scholarships available, but she said they couldn't find anyone,.
"The students don't have to be great.  We just want to send them," she stated. "One of you students sitting here will be the recipient of a university or college scholarship. But I'm hoping that it will be more than just one because there are lots of scholarships available worth millions of dollars in the United States."
Miller-Brice thanked the Ministry of Education, the sponsors and the coaches who are all binding together to help to make the league a success.
Evon Wisdom, the senior education officer for sports at the Ministry of Education, said they have 11 schools involved in the pilot programme with full sponsorship from corporate Bahamas.
"The costs for this is not cheap because of the energy cost involved, so we want to thank companies like Bamboo Shack, Island Luck and BTC for investing in the lives of these young people," Wisdom said.
"I feel good for the young girls involved in the programme because bowling is scholarship sports for girls, so this gives them an opportunity to be able to secure scholarships that are being afforded to the Bahamas."
The league, although it was officially opened last night, will be held on Thursday and Friday, starting at 4pm and again on Saturday, at a time to be determined.
Ghani Pinder, the vice president of Bamboo Shack, said when she was approached by Miller-Brice, there was no way that they could turn down the offer. "We took it to our CEO and she thought it was a wonderful event to get involved in it," Pinder said. "This is what we love. Bamboo Shack loves to give back to the Bahamian community and we are getting ready to launch our kids club into the school, so this is a great thing for them to do."
Ras-Deniro Thompson, the public relations officer for Bamboo Shack, added that they have been involved in sponsoring sports in the country and they are just as excited about making their presence felt in the first National High School Bowling League.
Andrea Fox, the chief operating officer for Island Luck, said she too was approached by Miller-Brice to get involved and jumped on it. "Island Care will make sure that our presence is felt," she said. "We will not just make a contribution, but we will be there every step of the way. We will continue, continue and continue."
Joel Lewis, the deputy director of education, said the event would get a chance to keep the children off the street and give them something positive to do in their spare time.
Lewis said the last time he was at the bowling lanes was when it was at Village Road. But he said at the same time, he was in the Boys' Brigade.  So he said he hopes that something like this would provide more avenues for the children to do things more constructive.
"You have a goal at the end of the road, which is a scholarship," he said. "Not many of us are afforded the opportunity to get a scholarship, but this is geared to get some of our young people a chance to get off to school on a scholarship.
"This is a pilot programme and so we are only going to be able to get some of the schools involved this year. But we are hoping that next year, we will get more schools involved."
Joann Powell, president of the Bahamas Bowling Federation, said it was always a dream of hers and her collegiate to get an active junior programme going and this is a step in the right direction.
She thanked all of the sponsors and the Ministry of Education for finally getting the programme started and the federation looks forward in assisting the bowlers as much as they can because not only can they secure scholarships, but they can get the opportunity to travel the world to compete.
And Angie Smith, one of the top female bowlers in the country, said she would make herself available and get more competitors from the federation to come out and assist her as coaches in the programme.
Varel Davis, president of the GSSSA, said they welcomed the idea to have bowling introduced into the school.
"We are not taking away from the core sports, but we are finding something else for the kids to get involved in," Davis said. "She went out of her way to find sponsors for all of the schools.
"So I'm happy to see that it has finally gotten off the ground and I'm looking forward to seeing it getting bigger and better next year."
The CR Walker Knights have been a household name in the GSSSA and coach Tyrice Curry said they hope to continue their trend of success.
"Based on my opinion, I think it's a great programme," she said. "We are targeting kids that probably would not play basketball or softball. They came out to do bowling and we are seeing a different side of them."
Like they have done in all of the other sports, Curry said the Knights are hoping to shine as well in bowling.
Britney Bain, the niece of former Bahamian national 400 metre record holder Avard Moncur, said bowling is something new for her to try.
"I've been bowling since I was young, but I never played in a league, so I'm happy to see that it has been expanded into a league for us to play in high school," said the 16-year-old 12th grader at Doris Johnson Secondary High.
"I expect that we will have a great turnout. It's a little difficult because this is a week day, but once we get it going, I think it will work out very well."
And Don Gardiner, an eighth grader at the AF Adderley Junior High School, said bowling is a great sport.
"It's motivating me to let everybody see how well I can bowl," said the 13-year-old. "It's a good sport and I just want to thank everybody who is supporting us.
"When I walked into the class and our teacher asked who was willing to bowl, I said yes because I was really excited to get involved in something like this."