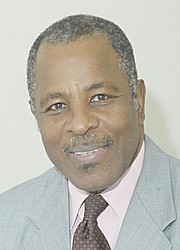 Arawak Homes' chairman yesterday said the company's two decade-plus battle with the Government over compulsorily acquired land epitomised the "injustice" suffered by thousands of Bahamians.
Sir Franklyn Wilson told Tribune Business that "millions and millions, and millions and millions of dollars" are owed by the Government to Bahamians whose land it has acquired for so-called 'public good' or purposes.
Speaking after the Privy Council yesterday delivered a mixed verdict, as far as Arawak Homes is concerned, on its claim for compensation for land acquired for two schools and the Charles W Saunders Highway, Sir Franklyn pledged that the developer will fight on.
"This is from 1995 until now," he told Tribune Business of the company's fight to obtain what it considers a just financial settlement from the Government.
"If there's one book in me, it will be a story of the challenges with land title in this country. If there's one book in me, that's what it will be about.
"In this particular case, it's a story of very, very high injustice, and there's no single Government that has all the blame for it. It's very, very disappointing."
The land involved in Arawak Homes' case, which was acquired via three separate moves in the 1990s and 2001, was used to construct the Cleveland Eneas and Sadie Curtis Primary Schools, plus part of the Charles W. Saunders Highway that links Pinewood Gardens to Sea Breeze Estates.
Pointing out that the Government was supposed to provide speedy compensation under the Acquisition of Land Act for those whose properties/land it compulsorily acquired, Sir Franklyn said: "We have literally spent millions and millions of dollars over the last two decades in pursuit of this matter.
"We're not alone. If you look at the number of people around this island whose land was expropriated..... the New Providence Road Improvement Project."
He continued: "I recently ran into a realtor who happened to own a very good piece of land, and what the Government did to him was sinful.
"The FNM government was the government at the time, and he can't get a nickel from the PLP government since. It's a real challenge, this question of expropriation of land. It's very, very difficult.
"Millions and millions, and millions and millions of dollars, are owed to people who don't have the capacity or inclination to fight as we have done."
Sir Franklyn said attorneys were still assessing yesterday's Privy Council judgment and its implications for Arawak Homes' case, but he added: "We live to fight another day, and there are aspects of the ruling that please us
"We didn't get all we wanted, but we got enough to tell us we have to fight on. We'll probably have to fight another 10 years, but we ain't going to stop; I have that in my will.
"When all is said and done, my book will come out, and I will tell people just how bad this is regardless of the party in power."
Arawak Homes had been forced to fight multiple legal battles on numerous fronts since it acquired its 3,000 lots, and two other tracts of land, in the Pinewood Gardens area in 1983.
Apart from the ongoing battle with the Government, Arawak Homes has fought off numerous competing claims to the land - a situation that stems largely from the perpetration of a major land swindle on unsuspecting Bahamians by groups who obtained title certificates via fraud.
Separately, unable to agree a suitable compensation sum, Arawak Homes and the Government have been embroiled in litigation since 2004, asking the judicial system to determine what taxpayers should pay the developer.
Then-Supreme Court Justice Neville Adderley ruled in October 2012 that Arawak Homes should receive a total $4.4 million, but the developer appealed the verdict to the Court of Appeal.
The appeal court granted Arawak Homes a partial victory by increasing the compensation award for the Cleveland Eneas land more than five-fold - from $160,000 to a collective $848,320.
Yet, while overturning the assessed 'market value' for the Sadie Curtis and Charles W. Saunders land, the Court of Appeal sent that issue back to the Supreme Court for re-determination.
And Arawak Homes was still unable to collect a single cent of even the Cleveland Eneas award, the Court of Appeal upholding Justice Adderley's verdict that its compensation remain in an interest-bearing escrow account.
This was required because competing claims to Arawak Homes' ownership of the land acquired by the Government, which will have to be resolved by another Supreme Court judge.
At the Privy Council, Arawak Homes challenged the compensation granted by the Supreme Court for both its residential and commercial lots.
In the case of the former, the developer argued that then-Justice Adderley failed to take into account the proper value of the land based on Arawak Homes' profitable sales record.
As for the commercial properties, Arawak Homes said this was based on "an untested assertion that it was prone to flooding" - something its own evidence had rejected.
However, the Privy Council ruled that the appeal on the residential land was "doomed to fail", while the valuation provided by Arawak Homes' own appraiser, Wilshire Bethell, was "out of line" with the company's 1995 figure for the commercial plot and "unsupported by market evidence of any kind".
There was better news, though, for Arawak Homes on other issues as the Privy Council ruled that its claim for 193 lots taken for connecting roads to Charles W. Saunders should be referred back to the Supreme Court for assessment.
It also found that the issue of how Arawak Homes' compensation is "to be held", and whether payments can be made to the developer "in the interim" until the matter is settled, also should be dealt with by the Supreme Court.